Dokumentiere Weihnachten – 5 Gründe dafür und das Projekt 2014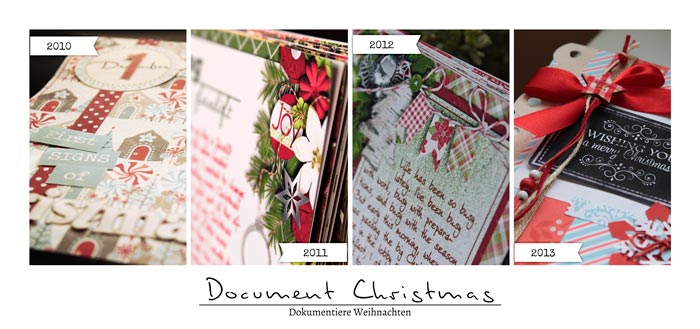 Because this is a very long blog post, here's a quick overview of what I'll cover. Simply scroll down to which ever section interests you most. For more inspiration, click on the Tag: December Daily.
I. For Newbies
II. 5 Good Reasons for Doing the December Daily
III. Time for Another Round: First Considerations
IV. Practical Steps: The Planning Process
V. Document Christmas 2014: Here Are the Details
VI. Further Links & Recommendations
Da dies ein sehr langer Artikel ist, bekommt ihr hier einen schnellen Überblick. Damit könnt ihr schneller den Teil finden, der euch interessiert. Für weiter Inspiration einfach auf das Label "December Daily" klicken.
I. Für diejenigen, die noch nie vom December Daily gehört haben
II. 5 gute Gründe für das December Daily
III. Zeit für eine weitere Runde: Erste Überlegungen
IV. Praktische Schritte: Der Planungsprozess
V. Dokumentiere Weihnachten 2014: Die Einzelheiten
VI. Weitere Links und Empfehlungen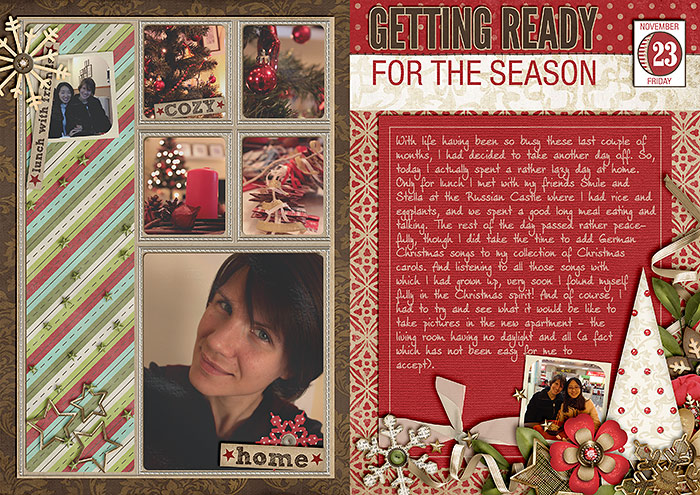 I. For Newbies
Before I get started on sharing my process with you this year, a quick note to those who've never heard about the December Daily before. If you haven't tried it, I'd like to highly recommend that you would give it a try this year.
In a nutshell, throughout the days leading up to Christmas (or the month of December, or whichever other time frame you choose), you try to capture one (or more) story each day and document it with photos and scrapbooking materials. You can go as simple or as elaborate as you want. You can do it with actual paper, printables, or digital products. (Tip: I offer three full digital Christmas kits/collections as freebies here at mistyhilltops.com. If you don't have any supplies, these could definitely get you started. And even without a program like Photoshop, you could simply print everything from a Word document and start from there.) If you've never done it before, why don't you start real simple: Pick a week in December. Try to remember to take pictures each day and document your story. That's it.
Here are 5 reasons why I wouldn't want to do Christmas without the December Daily:
I. Für diejenigen, die noch nie vom December Daily gehört haben
Bevor ich anfange euch in meine Prozesse des December Daily Projektes für dieses Jahre mit hineinzunehmen, möchte ich mal schnell ein Wort an alle die richten, die davon noch nie etwas gehört haben. Wenn ihr es noch nie versucht habt, möchte ich es euch sehr ans Herz legen, es dieses Jahr mal anzugehen.
In Kürze gesagt, in den Tagen vor Weihnachten (oder den ganzen Dezember hindurch, oder welcher Zeitraum euch am besten passt) sammelt und dokumentiert man eine oder mehrere Geschichten pro Tag in einem Album mit Fotos und anderen Materialien. Ihr könnt das so einfach oder so aufwändig halten, wie ihr lustig seid. Ihr könnt es mit Scrapbookmaterialien, Druckmaterialien (gibts im Internet zuhauf) oder digitalen Produkten machen. (Tipp: Bei mir hier auf dem Blog gibts schon drei volle digitale Weihnachtskits/-kollektionen kostenlos zum Download. Falls ihr keine anderen Materialien habt, werden diese Produkte für den Anfang voll ausreichen. Und auch ohne ein Program wie Photoshop könnt ihr einfach alles in einem Worddokument ausdrucken und damit dann was anfangen.) Wenn ihr's noch nie probiert habt, warum nicht mal ganz einfach anfangen? Sucht euch eine Woche im Dezember aus. Macht jeden Tag Fotos und dokumentiert eure Geschichten. So einfach! Hier sind 5 gute Gründe, warum ich Weihnachten nicht ohne das Dezember Daily verbringen möchte:
II. 5 Good Reasons for Doing the December Daily
1. Experiencing Christmas
The December Daily has helped me experience the Christmas season a lot more consciously. Because I know I'll be documenting something, every day I try to do something that is related to Christmas. It really makes the season even more special to me. And whether it's the big events or small day-to-day moments, I have a daily reminder to live and enjoy the season to the fullest.
2. Photos
The DD has encouraged me to take more photos. Because I want my album to have many photos, I'll pick up my camera a lot more often than I would otherwise. And so even little moments will be captured and remembered for a long time.
3. It Ignites the Christmas Spirit
Working on the DD definitely helps me get into the right mood. Christmas becomes even more special for me, when I have an opportunity to express my creativity. And whether I worked on digital projects or actual paper mini albums in the past, I get right into the magic of the season as soon as I pick up my supplies.
4. Appreciate the Small Moments
The DD has taught me to appreciate even the small moments in December. Everything suddenly becomes worth celebrating. The cup of hot chocolate, the little gingerbread treat – whatever it is – you live it more consciously; you celebrate it and you want to capture that moment.
5. Making Good Use of Your Christmas Scrap Stash
When it comes to scrapbooking, Christmas products are definitely among my favorite products. Or why would I buy my xxy. number of Christmas kit when I have evertying in every color imaginable already? But I just can't help myself: I get to play with pretty Christmas scrapbooking products (and if I want to, I get to use them in more than one way, because I can still scrap traditional Christmas pages, too) and for that I'll take any opportunity I can.I'm sure others among you still have good reasons for why to do the December Daily, I for my part wouldn't want to celebrate Christmas without it. If you want to know more about it and if you're looking for some tips on how to get started, check out my old blog post on "Tackling Your December Daily.
II. 5 gute Gründe für das December Daily
1. Die Weihnachtszeit erleben
Das December Daily Projekt hat mir geholfen, die Weihnachtszeit viel intensiver zu erleben. Da ich die ganze Sache am dokumentieren bin, versuche ich jeden Tag etwas zu finden, das irgendwie auf Weihnachten Bezug hat. Es macht die Adventszeit so viel besonderer für micht. Und ob es nun die großen Anlässe oder die kleinen, tagtäglichen Augenblick sind, jeden Tag werde ich daran erinnert, das Beste aus der Weihnachtszeit zu machen.
2. Fotos
Das DD hat mich dazu ermutigt, mehr Fotos zu machen. Da ich möchte, dass mein Album viele Fotos hat, nehme ich die Kamera viel öfter zur Hand. Und auf diese Weise werden selbst kleine Momente festghelaten und bleiben in Erinnerung.
3. Weihnachtsstimmung
Durch das DD kommt bei mir unweigerlich Weihnachtsstimmung auf. Weihnachten wird noch einmal besser, denn ich kann mich auch in der Weihnachtszeit kreativ austoben. Und ob ich nun an digitalen Projekten oder richtigen Minialben aus Papier arbeite, der Zauber der Weihnachtszeit fängt mich immer gleich ein, sobald ich nach meinen Materialien greife.
4. Die kleinen Augenblicke wahrnehmen
Das DD hat mich gelehrt, selbst die kleinen Momente im Dezember wahrzunehmen und zu schätzen. Plötzlich gibt es überall etwas, das es wert ist zu feiern. Die Tasse heißer Schokolade, das Lebkuchenherz – was immer es ist – ich erlebe es bewußter; ich feiere den Moment und möchte ihn lange festhalten.
5. Weihnachtsbastelkram gut zur Geltung bringen
Wenn es ums Scrapbooking geht, dann sind Weihnachtsprodukte definitiv meine Favoriten. Oder warum sonst würde ich mir das XXY. Weihnachtskit kaufen, wo ich doch schon alles und in allen Farben habe? Aber ich kann mir nun einmal selbst nicht helfen: Ich darf mich mal wieder an hübschen Scrapbook Produkten auslassen (und kann sie auch mehrfach verwenden, da ich auch noch traditionelle Weihnachtsseiten scrappen kann) und da nehme ich doch jede Gelegenheit wahr.Sicherlich haben andere von euch noch weitere gute Gründe, warum sie das December Daily so gut finden. Ich für meinen Teil könnte mir Weihnachten ohne dieses Projekt nicht mehr vorstellen.
Falls ihr noch mehr hierüber wissen wollt, oder noch nach Tipps sucht, um loszulegen, dann seht euch mal meinen älteren Artikel an, wo es darum geht, wie man an das December Daily am Besten herangeht.
III. Time for Another Round: First Considerations
Yes, it's that time of year again when December is just around the corner. And since I'm one who loves doing the December Daily project, I guess, it's time to start sharing my process for this year. Except that: So far there's no process really. Ah, and yes, thank you for reminding me that it's getting kind of late. I almost missed that part! But then I'm usually late when it comes to special events, so I'm not really shocked right now. To be honest, this year's DD project has been on my mind for quite a while, but I've just not been able to make up my mind about what I'd like to do this year. Last year I made an all hybrid kind of mini album that was a lot of fun, but also a lot of work.
III. Zeit für eine weitere Runde: Erste Überlegungen
Ja, der Dezember steht nun fast vor der Tür. Und da ich voll gerne am December Daily Album Projekt teilnehme und vorhabe es dieses Jahr auch wieder zu tun, wird es wohl höchste Zeit, ans Werk zu gehen. Ach und vielen Dank, dass ihr mich daran erinnert, dass es mit der Planung langsam schon ein bischen spät wird. Das hätte ich fast gar nicht gemerkt! Aber da ich gewöhnlicherweise bei besonderen Anlässen immer ein bischen spät bin, schockiert mich das jetzt gerade nicht so sehr! Ehrlich gesagt mache ich mir schon seit einiger Zeit Gedanken über das DD Projekt, aber ich konnte mich einfach noch nicht entscheiden, was ich dieses Jahr damit machen möchte. Letztes Jahr habe ich ein richitiges Minialbum gebastelt, was mir super viel Spaß gemacht hat, aber auch viel Arbeit war.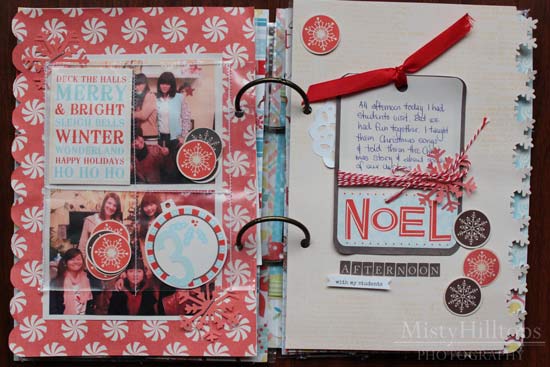 And while I totally love my all hybrid mini album, this year I'm hesitating to embark on the same kind of journey for a number of reasons. 1. Compared to last year, I'd like to spend less time on the album this year. 2. I'm working on another mini album that I promised someone in my family for Christmas (and doing 2 albums at the same time – I wouldn't have time to actually celebrate the season!). 3. Due to various circumstances, I won't have access to all my craft supplies throughout the entire time which means I won't be able to actually finish the album until well into 2015 (which makes a hybrid style album pretty unfeasable). And 4. Last year's album turned out pretty massive and I didn't even document the entire month of December.
So, today I finally made my decision to do my album digital again (and have it printed afterward). That way it'll go faster, I can cover more days, I'll always have easy access to my digital supplies, and I get to have more time actually celebrating Christmas. (And, this still leaves the option to create a Christmas mini album if I have the mind for it at some point.) So, there you go. I've finally made up my mind.
Und obwohl mir mein gebasteltes Album immer noch super gefällt, kann ich mich dieses Jahr einfach nicht dazu entschließen, mich noch einmal auf ein solches Projekt einzulassen – aus verschiedenen Gründen. 1. Im Vergleich zum letzten Jahr würde ich dieses Jahr gerne weniger Zeit in das Album stecken. 2. Ich habe jemandem aus meiner Familie noch ein anderes Minialbum versprochen, an dem ich gerade Arbeite (und an 2 Alben gleichzeitig zu arbeiten – dann käme ich ja gar nicht mehr zum Feiern dieser Weihnachtszeit!). 3. Aus verschiedenen Gründen, werde ich nicht die ganze Zeit Zugang zu all meinen Bastelmaterialien haben, was wiederum bedeutet, dass ich das Album nicht bis irgendwann 2015 fertig stellen könnte (was ein gebasteltes Album ziemlich unpraktisch macht). Und 4. Das Album letztes Jahr ist zeimlich wuchtig ausgefallen und dabei habe ich noch nicht mal den ganzen Dezember dokumentiert.
Also habe ich mich heute schlußendlich dazu entschlossen, nochmal ein digitales Album zu erstellen (das ich dann hinterher einfach ausdrucken lasse). Das wird schneller gehen, ich kann mehr Tage dokumentieren, ich habe stets schnellen Zugriff auf meine digitalen Dateien und ich werde mehr Zeit haben, die Weihnachtszeit zu genießen. (Und: Ich habe immer noch die Möglichkeit, eine Weihnachtsminialbum zu basteln, wenn mir irgendwann mal danach ist.) Also, da habt ihr's! Ich hab endlich einen Entschluß gefasst!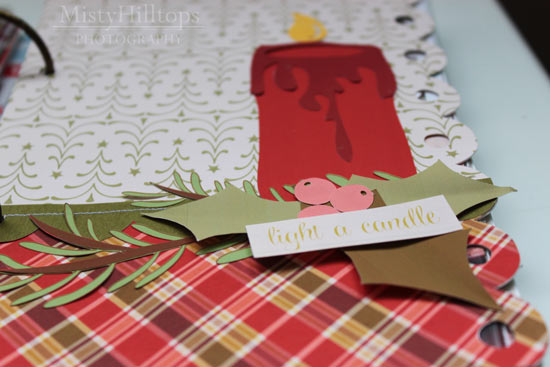 IV. Practical Steps: The Planning Process
Now, the next question is: How do I want to go about my DD Album 2014? I want it to be easy and as little time consuming as possible. And since I haven't even prepared anything yet, that's a pretty important point. In the past I've used various templates that I created before starting and that I kept using. But I don't like to repeat the same things again, so I've been searching Pinterest for ideas on layout options and with all the inspiration I found, I think I'm ready to go.
IV. Praktische Schritte: Der Planungsprozess
Die nächste Frage ist nun: Wie möchte ich das mit dem DD Album 2014 anstellen? Ich möchte, dass es einfach und so wenig zeitaufwändig ist wie möglich. Und da ich ja noch nicht mal angefangen habe, irgendetwas vorzubereiten, ist das ein ziemlich wichtiger Punkt. In den letzten Jahren habe ich verschiedenen Vorlagen erstellt, auf die ich dann immer wieder zurückgegriffen habe. Aber ich möchte nicht einfach das Gleiche Wiederholen, also hab ich mich bei Pinterest auf die Suche begeben, und so viel Inspiration gefunden, dass ich denke, dass ich wohl loslegen kann!
V. Document Christmas 2014: Here Are the Details
With that, here's how it's going to work this year:
1. The Starting Point
I think I'm going to start tomorrow with the story about decorating my home for Christmas. (I know for the Americans among us that's before Thanksgiving, but since I'm neither from nor in the States, it doesn't really matter to me. Where I'm from, it's definitely about time to turn your home into a Christmas Wonderland. And I might as well include our Thanksgiving activities in my album. After all, it's just another holiday.)
2. A Different Title
As I'm starting before December 1, I decided it would be logical to not call my project December Daily this year, but "Document Christmas." That way, I can start and finish whenever I want and it doesn't matter whether it's actually December or not.
3. The Format
The format will be really open. The size will be fixed as A5 (which is most practical for printing for me later), but the page layout will remain very flexible. I may or may not use photo pockets and will use various templates and sketches as basis for my page layouts. Since I already have way too many Christmas kits already (and plan to buy even more with the coming Black Friday sales) I'll make sure to use as many of these kits as I can. This means, I'll use a different kit on every page spread. As in the past, I'll use 1 double page spread for each day. That leaves enough room for my photos, to showcase pretty papers and space for title and embellishments.
V. Dokumentiere Weihnachten 2014: Die Einzelheiten
Und nachdem ich nun soweit bin, hier sind noch ein paar Einzelheiten für mein Projekt dieses Jahr:
1. Der Startpunkt
Ich denke, dass ich morgen anfangen werde, meine Geschichte über das weihnachtliche Dekorieren meiner Wohnung festzuhalten. (Schon klar – für die Amerikaner unter uns: Das ist noch vor Thanksgiving; aber da nicht aus den Staaten komme, noch dort wohne, spielt das bei mir keine Rolle. Wo ich herkomme, ist es definitiv an der Zeit, alles weihnachtlich herzurichten. Und dann kann ich ja gleich die Thanksgiving Aktivitiäten in meinem Album festhalten. Ist im Grunde ja nur ein weitere Feiertag bei all den Festlichkeiten.)
2. Ein neuer Titel
Da ich vor dem 1. Dez. starte, habe ich gedacht es wäre nur logisch, wenn mein Projekt dieses Jahr nicht December Daily heiißen würde, sondern "Dokumentiere Weihnachten." Auf diese Weise kann ich anfangen und aufhören, wann immer ich will und es spielt keine Rolle, ob es Dezember ist oder nicht.
3. Das Format
Beim Format werde ich flexibel sein. Die Größe wird wohl A5 bleiben (weil das für mich am Praktischsten ist), aber beim Seitenlayout werde ich mir alle Möglichkeiten offen halten. Ich kann dann Fototaschen verwenden oder nicht, und verschiedene Vorlagen und Skizzen. Und da ich schon zuviele Weihnachtskits habe (und am Freitag beim Black Friday Verkauf vorhabe noch mehr zu kaufen), möchte ich auch so viele von diesen Kits benutzen wie möglich. Das heißt, für jede Doppelseite gibt's ein anderes Kit. Wie bislang auch, werde ich pro Tag eine Doppelseite erstellen. Das gibt dann genug Platz für meine Fotos, um meine Papiere schön zur Geltung kommen zu lassen und Platz für Titel und Extras.
VI. Further Links & Recommendations
Tackling Your December Daily Project (lots of good tips)
First Steps December Daily 2013 (with more links)
Document Your December 2012
Behind the Scenes – December Daily 2012
VI. Weitere Links & Empfehlungen
Das Dezember Album in Angriff nehmen (viele gute Tipps)
Erste Schritte: December Daily 2013 (mit weiterführenden Links)
Dokumentiere deinen Dezember 2012
Hinter den Kulissen – December Daily 2012