Yes, you're right: It's been a little quiet in my galleries recently. For one, I've been really busy with work and real life lately, and for another: I got inspired. "Inspired?" you ask. Yep. Another one of my inspirations. This time it's all about minibooks. If you don't know what I'm talking about, just hop on over to this place HERE.
Take a look at this lady's scrap-creations. In my opinion, she's created some pretty amazing minibooks.
Or THIS one.
This lady, too, has lots of super fun travel books/journals that she creates. So much inspiration to look at.
It actually got me thinking: I hardly ever print out photos. And wouldn't it be fun to have a little collection of photos, memories, journaling to put together into a small photo/minibook?
Well, I didn't just think about it. I actually went ahead and did it. Or at least, I started it. Still got a lot more pages to do (and am realizing that this book probably exceeds the size that I had expected it to be (as far as page numbers is concerned), but I went ahead, searched through pretty much all the stationary stores nearby, trying to find stuff that I could somehow use (it's a lot of improvisation for me, since I don't have pretty craft stores around), and after a week I'm fairly into the process. That's why I haven't had anything digitally to add to my galleries lately.
My little minibook isn't anywhere finished yet, but I got you a couple of pictures, just to give you an idea what it will look like.
My first page; still missing some photos, and nothing is put together yet.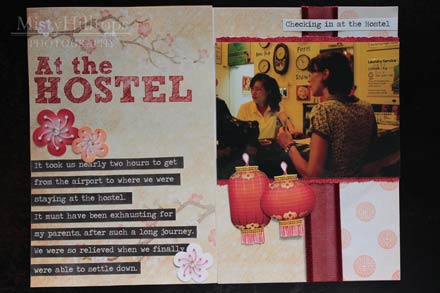 Anyways, I'll keep you updated on my progress, and will show you the final product once it's done.