Schreibstube: Sport
Sports can be a big part of the lives of some of us. And with the soccer world cup just around the corner, it's a good opportunity to think and write a little about the place sports take in our lives. Here are today's prompts:
Sport kann ein wichtiger Teil im Leben von vielen von uns sein. Und mit der Fussballweltmeisterschaft im Anmarsch, ist es eine gute Gelegenheit, mal ein bisschen darüber nachzudenken (und schreiben) über die Stellung, die der Sport in unserem Leben einnimmt. Hier sind die Anregungen dieser Woche: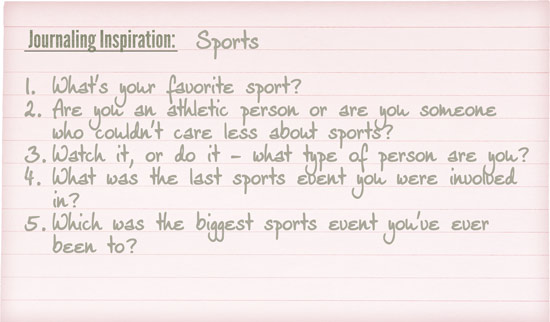 Was ist dein Lieblingssport?
Bist du eine athletische Person oder machst du dir nichts aus Sport?
Sport ansehen, oder selbst teilnehmen – was ziehst du vor?
Was war das letzte Sportereignis an dem du teilgenommen hast?
Welches war das größte Sportereignis bei dem du jemals warst?
And of course, I have a page ready for you to show you what I've been thinking in regards to this topic:
Und natürlich habe ich auch ein Layout parat, um euch zu zeigen, was mir bei dem Thema durch den Kopf gegangen ist: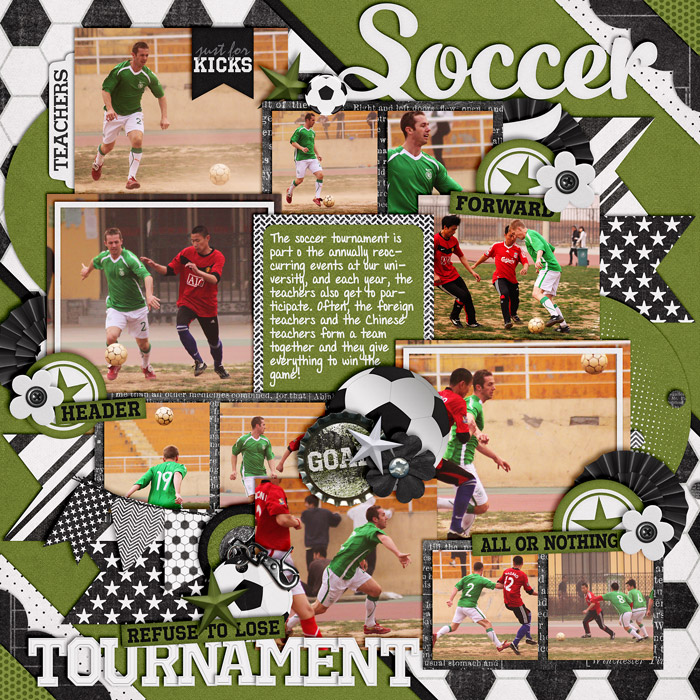 The font used for journaling prompts is DJB Squirrels in My Pants by Darcy Baldwin, available at sweetshoppedesigns.com.
Schriftart für die Schreibideen ist DJB Squirrels in My Pants by Darcy Baldwin, erhätlich bei sweetshoppedesigns.com.