Freebie Freitag: Summer in Orange Country – Teil 1
I'm so thrilled because I managed to design a new kit for you to collect over the next couple of weeks. This one's got a spritz of summer and oranges, fresh and bright. I hope you like it. As always, it comes with a couple of alphas, and it's loaded with papers and goodies. And you get a good number of journaling cards and other assets useful for your pocket scrapping (and some of them versatile enough for you to use not only for summer projects). Before you move on to the download, however, I'm asking you to play fair and respect my terms of use. This means, Summer in Orange Country is only for your personal use (no commercial use is permitted). You may not share or redistribute this product in any way (sending others to this website so they can download it from here is permitted and welcomed). You can find my full TOUs here, if you have any doubt as to how you can use this. Or shoot me a message.
Now, on to the kit, and the first download – the alphas.
Ich freue mich riesig, denn ich habe es mal wieder geschafft, ein neues Kit für euch zusammenzustellen. Dies neueste Freebie hat einen Spritzer von Sommer, Orangen, frisch und hell. Ich hoffe, es gefällt euch. Wie immer sind mehrere Alphas dabei und es ist rappelvoll mit Papieren und Elementen. Ihr bekommt auch eine gute Anzahl von Journaling Karten und Elementen, die ideal fürs Pocket Scrapping sind (und einiges ist vielseitig genug, dass es nicht nur für Sommerprojekte zu gebrauchen ist). Bevor ihr euch aber ans runterladen begebt, bitte ich euch nochmal fair zu sein und meine Nutzungsbedingungen zu respektieren. Das bedeutet: Sommer in Orange Country darf nur für eure persönlichen Projekte verwendet werden (keine kommerzielle Verwendung erlaubt). Ihr dürft dieses Produkt auch nicht direkt mit anderen teilen oder es auf sonstige Weise weiterverbreiten (ihr dürft gerne andere hierher zu Mistyhilltops einladen, damit sie sich alles hier herunterladen können. Meine vollen Nutzungsrechte (Englisch) findet ihr hier und falls ihr fragen habt, wendet euch doch persönlich an mich.
Jetzt aber weiter zum Kit und zum ersten Download: den Alphas.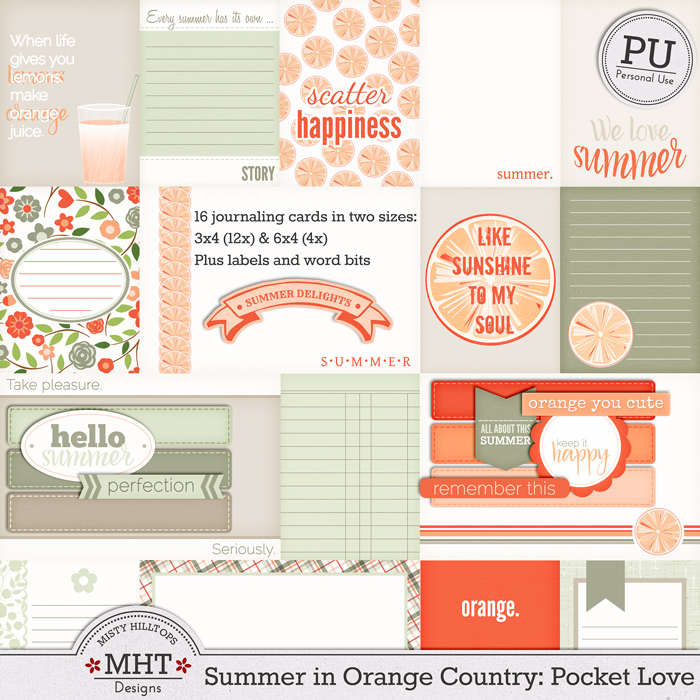 Download below / Download unten
Don't forget to come back soon to pick up the next part. For now, however, I hope you'll enjoy your weekend.
Vergesst nicht, bald zurückzukommen, um euch den nächsten Teil abzuholen. Jetzt wünsche ich allen aber erstmal ein schönes Wochenende.
Download