Sylter Abenteuer – Es geht los
Getting up in the wee hours of the morning was the order of the day. Why? Because this was a day of travels. My friends wanted to set out and catch their train from Hamburg and since sister und I wanted to go the same direction, my Dad decided to take us all to the various train stations in Hamburg from where we needed to head out. We all had a lot of luggage. My friends because they'd been traveling in Europe for a while, and sister and I because we had our bikes and our camping gear with us. Sylt was our destination and we'd decided to carry all our stuff with our bikes. After dropping off our friends at the main station, we made it to our train on time and then the adventure was all ours! As it is, Sylt is the only German island in the North Sea that is connected to the mainland via a train dam. It's quite fun to ride on the train and then be surrounded by water.
Vor Morgengrauen aufstehen – so lautete die Devise heute. Warum? Weil es auf Reisen ging. Meine Freunde wollten nach Hamburg, um von dort den Zug zu erwischen und Schwester und ich wollten ebenfalls in Richtung Hamburg mit dem Zug. Also hatte mein werter Herr Papa beschlossen, uns alle nach Hamburg zu fahren. Wir hatten alle viel Gepäck. Meine Freunde, weil sie viel durch Europa gereist waren. Schwester und ich, weil wir unsere Fahrräder und Campingausrüstung dabei hatten. Sylt, lautete unser Ziel und wir wollten alles mit den Rädern dorthin transportieren. Nachdem wir unsere Freunde am Hauptbahnhof abgesetzt hatten, schafften wir es rechtzeitig zum nächsten Zug von Altona und dann sollte das Abenteuer auch schon losgehen! Sylt ist ja die einzige deutsche Insel in der Nordsee, die mit dem Festland verbunden ist. Und so war es doch sehr interessant, im Zug zu sitzen und von beiden Seiten vom Wasser umgeben zu sehen.
We made it in good time to our camp site, which was right behind the dunes. The weather was perfect and after setting up camp and eating lunch, we headed out to the beach where we spent pretty much the rest of the day.
Wir kamen beizeiten am Campingplatz direkt hinter den Dünen an. Das Wetter war perfekt und nachdem wir unser Lager aufgebaut und Mittag gegessen hatten, gings gleich raus an den Strand, wo wir so ziemlich den Rest des Tages verbrachten.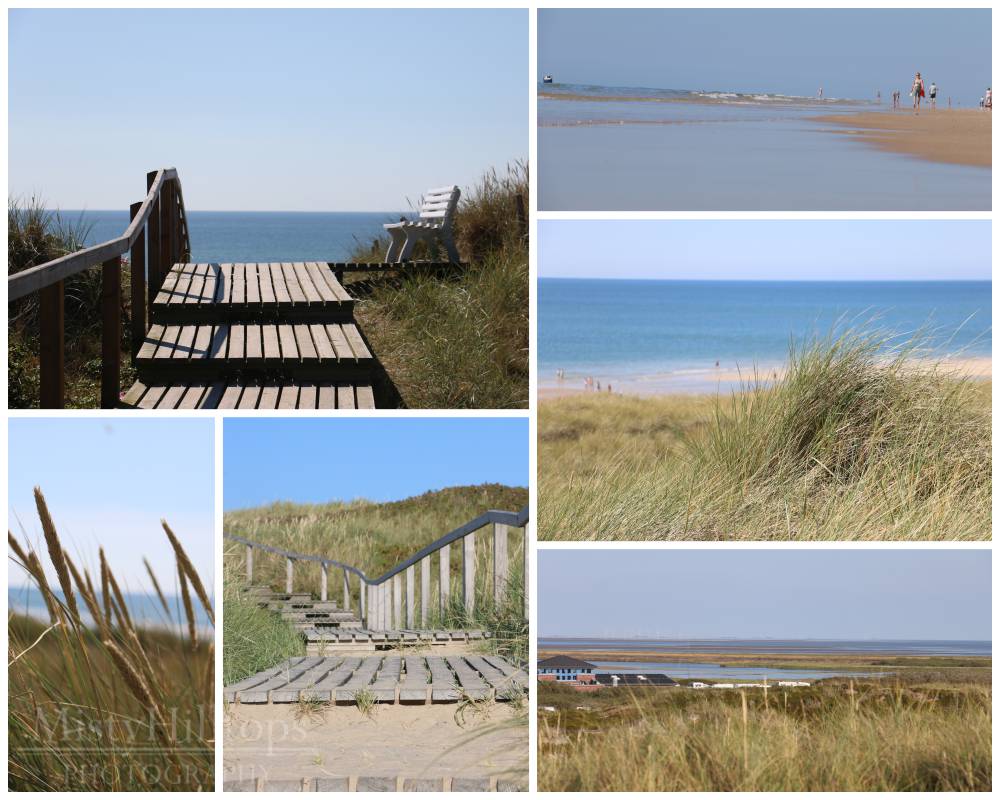 After dinner, we went for a walk in the dunes, and when we returned to the beach, we were given a pretty rare spectacle. A porpoise was coursing back and forth mere feet from the beach. And we were able to watch for quite a while how it surfaced and then disappeared in the water again. Unfortunately, we could never tell where it would surface next (as it's able to move quite swiftly), so I never got to capture it fully with my camera.
Nach dem Abendessen machten wir noch einen Spaziergang in den Dünen, und als wir an den Strand zurückkehrten, gab es für uns ein ziemlich einmaliges Spektakel. Ein Schweinswal zog nur wenige Meter vom Strand seine Bahnen. Und für eine ganze Weile konnten wir ihn beobachten, wie er immer wieder auftauchte und dann in den Fluten verschwand. Leider konnten wir nicht sagen, wo er als nächstes auftauchen würde und da er sehr wendig war, gelang es mir nicht, ihn wirklich mit der Kamera einzufangen.
By the way, I can very much recommend the campground where we stayed. It's right outside of Rantum (just a little bit south of Westerland), it's right across the street from the dunes with the Rantumer Basin on the other side. And it's got like the best sanitary facilities I've ever seen on any campground.
Übrigens, ich kann den Rantumer Campingplatz nur wärmstens empfehlen. Er befindet sich außerhalb von Rantum (nur ein wenig südlich von Westerland), gleich hinter den Dünen und mit dem Rantumer Becken auf der anderen Seite. Und er hat die besten Sanitäranlagen, die ich jemals auf einem Campingplatz gesehen habe.