Freebie Freitag: 6×6 Mini Interaktives Album Schneidedatei Teil 1 – Deckel und Bindung
Anzeige (Kann Produktempfehlungen enthalten) / Advertisement (May contain product endorsement)
English
This year I'm really ahead with preparations for my Document December (December Daily) album. I gave things a lot of thought (as I've been creating a variety of DD albums for many years), and decided to go with a 6×6 interactive mini album that is compact, but leaves room for many photos and much creativity.
Deutsch
Dieses Jahr habe ich ein wenig vorgearbeitet und schon mit den Vorbereitungen für mein Dezember Album getroffen. Ich habe lange überlegt, wie ich mein Album für 2022 gestalten möchte (da ich schon seit vielen Jahren die verschiedensten Album kreiert habe), und habe beschlossen, ein 6×6 interaktives mini album zu bauen, das viel Raum für Fotos und Flexibilität lässt.
Early this year I stumbled upon the flip through of an album by Karolina's Krafts, and pretty quickly I knew I wanted to create an album just like hers – though giving it my own style and touches.
Anfang des Jahres bin ich auf Youtube auf ein Album von Karolina's Krafts gestoßen, und wusste ziemlich schnell, dass ich meine Hand mal an einem solchen Album versuchen wollte – wenngleich mit meinem eigenen Stil.
During the long winter break I then did just that: I created two such mini albums, and I loved the outcome so much that I knew this wasn't the last time I was going to make an album like that.
Die langen Winterferien habe ich dann dazu genutzt, gleich zwei solcher Alben zu erstellen. Und mir gefällt das Ergebnis so sehr, dass ich wusste, ein solches Album werde ich auch in Zukunft noch einmal basteln.
In her video, Karolina credits the basic design of her album to Lori's Crafty Creations, and provides a link to Lori's original album. And lo and behold, when I checked out Lori's video, I discovered that she has all the measurements for her album in the description box of her video.
In ihrem Video schreibt Karolina die Idee dieses Albums Lori's Crafty Creations zu, und verlinkt auch zu Lor's originalem Album, das sie inspiriert hat. Und als ich Lori's Video gecheckt habe, habe ich entdeckt, dass sie die Maße ihres Albums in der Videobeschreibung aufgelistet hat.
Now, if you know me at all, you know that I'm much more a digital gal than I am a hands on paper crafts girl, though this year I really branched out as you can see when you visit my Portfolio.
You know how much of a digital gal I am when you check out the Youtube Channel for this site – and you find that half my projects are done with digital products that I print and cut. So, I'm still much more comfortable doing things the digital way, than by purely trimming everything by hand and with a measuring guide.
Nun, wenn ihr mich auch nur ein bisschen kennt, wisst ihr, dass ich viel mehr ein digitales Mädel bin, als mit Papier und all dem. Obwohl ich dieses Jahr im Bereich realer Bastelei viel experimentiert habe (wie ihr schnell sehen könnt, wenn ihr mein Portfolio besucht).
Trotzdem: Wenn ihr den Youtube Kanal dieser Seite besucht, erkennt ihr schnell wieviel das Digitale noch in mir steckt, denn viele der Produkte, die ich verwende sind digital – dann gedruckt und ausgeschnitten. Also fühle ich mich in der digitalen Welt immer noch pudelwohl.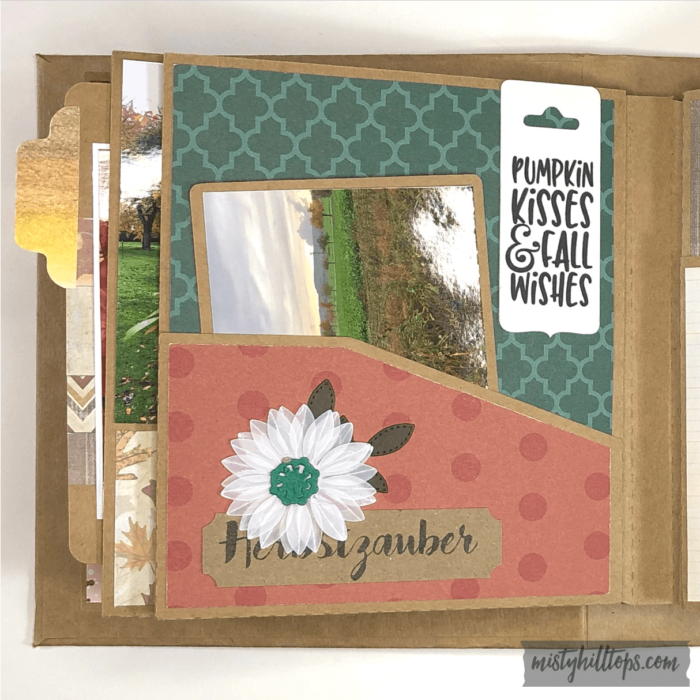 So, when I launched into creating my own albums last winter, based on Lori's measurements (and some pages and designs are my own creations), I wasn't going to do it by cutting everything with my trimmer. I went ahead and designed the entire album in my Silhoutte Studio app. And that's how I put together my albums: by letting me Silhouette do all the hard work.
Als ich dann dieses Minialbum basierend auf Lori's Anweisungen (wobei manche Seiten auch meine eigenen Kreationen sind) angehen wollte, hätte ich es nicht getan, wenn ich alles mit meinem Trimmer hätte zurechtschneiden müssen. Stattdessen habe ich das gesamte Album in meiner Silhouette Studio App nachgebaut. Und so sind auch meine beiden Album enstanden: Indem ich Silhouette die Arbeit habe tun lassen.
And now, if you are into mini albums and such, you're in luck! Because just in time for prepping this year's December project, I decided to release the files I created for this album as freebies on this site.
Und jetzt, wenn ihr gerne solche Mini Alben bastelt, dann habt ihr ein Riesenglück. Denn genau zum richtigen Zeitpunkt, wo viele mit den Vorbereitungen ihres Dezember Albums beginnen, habe ich beschlossen, meine Dateien für dieses Album als Freebies herauszugeben.
Over the next weeks and months you'll be able to collect the various parts that help you put together your own interactive 6×6 mini album that comes jam-packed with various page designs to make your own very special album.
Über die nächsten Wochen und Monate könnt ihr die verschiedenen Teile dieses Albums sammeln, die euch helfen werden, euer eigenes interaktives 6×6 Mini Album zu kreieren.
And this album comes with a ton of fun features:
Und dieses Album kommt vielen interessanten Seiten:
Pockets & Flaps
Waterfalls
Popup Pages
Tag Holder Pages
And so much more
Einsteckfächer & Klappen
Wasserfällen
Stehauf-Seiten
Etikettenhaltern
Und vieles mehr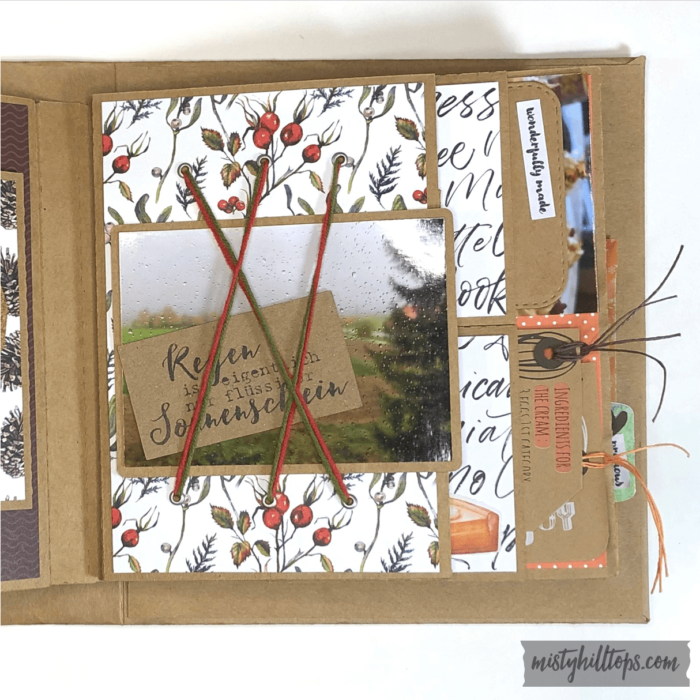 All of it comes with the flexibility that you need to create stunning projects with the ease of just a few clicks in your Silhouette Studio:
You can mix and match pages; decide where you want to put what layout; use your favorite features more than once in an album, or skip the ones you favor less.
Bei allem seid ihr total flexibel und könnt euer Album so gestalten, wie es euch gefällt – mit nur ein paar Klicken im Silhouette Studio.
Ihr könnte die Anordnung der Seiten selbst bestimmen; eure Lieblingslayouts könnt ihr mehrfach verwenden, weniger beliebte Seiten weglassen, und vieles mehr.
Video Tutorials
Each part of this collection will come with a video tutorial that explains how you can put together the respective page.
Video Anleitung
Jeder Teil dieser Kollektion kommt mit einer Video Anleitung, die erklärt wie die einzelnen Seiten zusammengefügt werden.
Non-Silhouette Users
Even if you don't own a Silhouette cutting machine, you can still benefit from having these files.
If you own a cutting machine of a different brand, you can use the SVG files that come included.
And each file comes with the measurements written on them. So, while you can create an album following Lori's measuring guide, things are a lot more visual with the files I provide here. You'll know exactly what each piece should look like before you ever cut it.
By the way, the Silhouette Studio app is free for download to anyone – whether you own a Silhouette machine or not.
Ohne Silhouette Maschine
Selbst wenn ihr keine Silhouette besitzt, können die Downloads immer noch von Nutzen sein.
Wenn ihr eine Maschine einer anderen Marke besitzt, könnt ihr die SVG Dateien verwenden, die beigefügt sind.
Und jede Datei enthält die Maße. So könnt ihr genau sehen, wie einzelne Stücke auszusehen haben (was bei Lori's Beschreibung nicht dabei ist).
Übrigens steht die Silhouette Studio App jedem kostenlos zum Download zur Verfügung, egal ob man eine Silhouette Maschine besitzt oder nicht.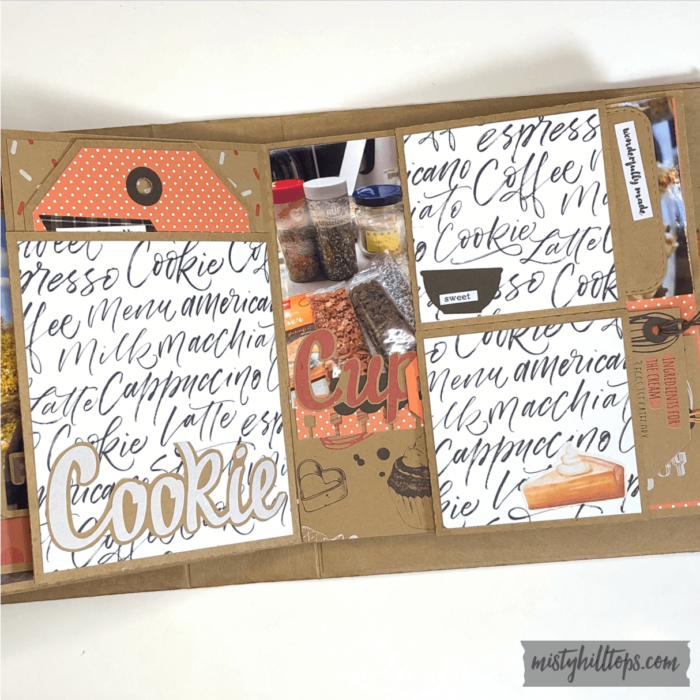 Cover & Binding
Today we'll start with the cover and binding of this album, and next week you'll get the base page signature. That enables you to create an entire 3-signature album right there. Everything else that comes afterward are just the fancy additions that I added to my albums. But even the first two downloads allow you to create fantastic albums.
Deckel & Bindung
Heute geht's lost mit dem Buchdeckel und der Bindung. Und nächste Woche könnt ihr euch die Hauptseite abholen. Mit diesen beiden Downloads könnt ihr schon das gesamte Album in seiner Grundform zusammenbauen. Alles, was danach kommt, sind die extra Seiten, die das Album interaktiv machen. Aber auch mit den ersten beiden Downloads könnt ihr euch tolle Alben basteln.
Disclaimer:
Today's file requires a 12×24 cutting mat.
But no worries. If you don't own such a large mat, you can still just trim this one large piece by hand, following the measuring guide
Anmerkung:
Der heutige Download enthält eine Datei, die eine 12×24 Schneidematte erfordert.
Aber keine Sorge. Wenn ihr eine solch große Matte nicht habt, könnt ihr dieses Stück immer noch recht einfach von Hand schneiden – mit Hilfe der beigefügten Maße.
Terms of Use
As always, I'd like to remind you to
respect my Terms of Use
. This and any other of my freebie products are available for personal use only. You may not use it for commercial purposes. You may not re-distribute it, sell it, share it, or make available in any other way to anyone else. You may not direct link to the product on the mediafire website. If you want others to enjoy this product, please send them to this post or website. You are welcome to share about this post or website on Pinterest or via your blog and social media.
Nutzungsbedingungen
Wie immer möchte ich euch daran erinnern, meine
Nutzungsbedingungen zu respektieren
. Dieses und jedes andere meiner Freebie Produkte steht euch nur für den persönlichen Gebrauch zur Verfügung. Ihr dürft es in keiner Weise kommerziell verwenden. Ihr dürft es nicht weitergeben, verkaufen, mit anderen teilen oder anderen in sonst irgendeiner Weise zur Verfügung stellen. Ihr dürft auch nicht die direkten Links zur Mediafire Webseite an andere weitergeben. Wenn ihr möchtet, dass andere in den Genuss dieses Produktes kommen, weist sie doch bitte auf diesen Artikel oder diese Webseite hin. Ihr dürft auch gerne über diesen Artikel oder diese Webseite auf Pinterest, eurem Blog oder euren Sozialen Medien posten.