Anzeige (Enthält Produktempfehlung) / Advertisement (Contains product endorsement)
English
This week I want to share with you how you can easily use Traveler's Notebook sketches as inspiration for your scrapbook layouts.
This applies to any TN sketches that are being shared out there on the www. But this works especially well with the freebie sketches that I share here on this site.
By the way, you can pick up the pages showcased here as Freebies below.
Deutsch
Diese Woche möchte ich mit euch darüber reden, wie man Traveler's Notebook Vorlagen ganz einfach als Inspiration für seine eigenen Scrapbookseiten verwenden kann.
Das gilt für alle TN Vorlagen, die im WWW im Umlauf sind. Aber es ist besonders leicht gemacht, mit den Vorlagen, die ich hier auf der Seite als Freebies teile.
Übrigens könnt ihr die Seiten, die hier gezeigt werden, unten als Freebies herunterladen.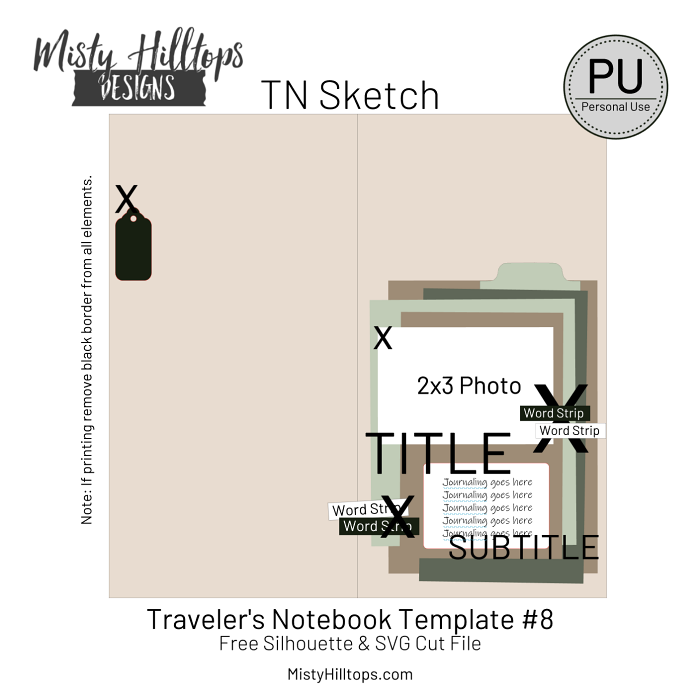 I made a video that explains what I'm talking about below, if you prefer watching this over reading.
Unten gibt's ein Video (auf englisch), das alles veranschaulicht, was ich hier zu erklären versuche.
Start With a Sketch
To make things easy, and because there are plenty of sketches available on this site (and many more to come), we'll use the latest sketch that I shared here just yesterday to demonstrate. But obviously, you can do this with most other sketches.
If you find this post much later, just click on the Tab "Weekly Sketch" in the menu above, and you'll be taken to all the weekly sketches that I've shared so far.
Fangt mit einer Vorlage an
Um es uns einfach zu machen, und weil es schon eine ganze Reihe Vorlagen hier auf der Seite zum Downloaden gibt (und noch viele mehr kommen in der Zukunft), nehme ich einfach die neueste Vorlage, die ich gerade gestern hier geteilt habe, als Beispiel. Aber natürlich könnt ihr das auch auf fast alle anderen Sketche anwenden.
Falls ihr viel später auf diesen Post trefft, klickt einfach den Reiter "Weekly Sketch" im Menü oben, und ihr findet alle wöchentlichen Vorlagen, die ich bislang hier veröffentlicht habe.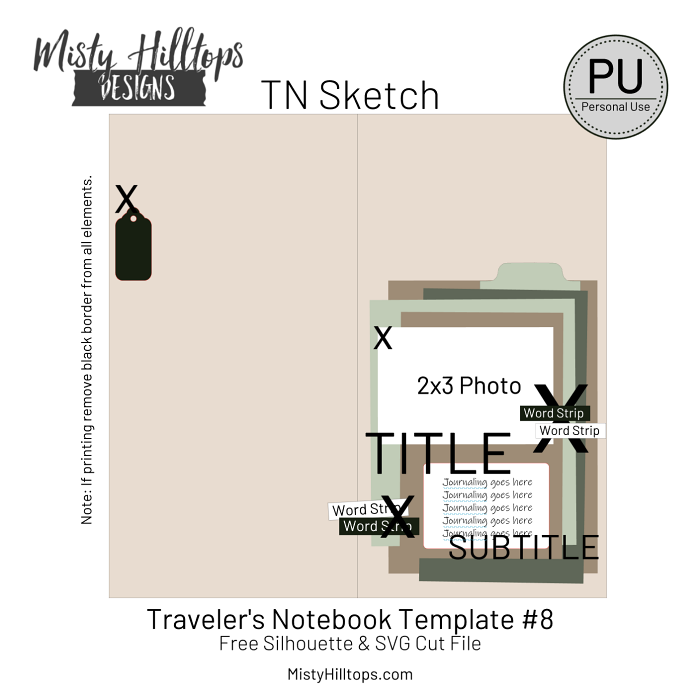 It's All About Resizing
If you're working with a sketch that you found on the www, you can either use the method that I shared last week to turn it into a traveler's notebook template, or you can just bypass using Silhouette Studio or other such apps altogether and just rebuild a layout by eyeballing it.
Es geht vor allem um Anpassung der Größe
Wenn ihr mit einer Vorlage arbeitet, die ihr im WWWW gefunden habt, könnt ihr entweder die Methode nehmen, die ich letzte Woche besprochen habe, um so eine Vorlage für eure eigene Seite zu erstellen. Oder ihr könnt Silhouette Studio (oder ähnliche Programme) umgehen, und einfach ein Layout Pi mal Daumen nachbauen.
I'm starting with the template, and opened it up in Silhouette Studio. I also prepared a new canvas into which I then copied the template, so I could play with it without losing the original.
Ich habe mit der Vorlage angefangen, und sie in Silhouette Studio geöffnet. Ich habe auch ein neues Dokument in Silhouette geöffnet, und dorthin die Vorlage kopiert. Damit ich damit herumspielen kann, ohne das Original zu verlieren.
Choose a Size
It is possible to transform these templates into any size you like: 6×6, 8×8, 12×12, or even letter size.
Wählt eure Größe
Es ist möglich, diese Vorlagen in jede beliebige Größe umzuwandeln: 6×6, 8×8, 12×12, oder auch A4.
Begin with the Photo
I recommend to start with the photo, because usually it's the photos that come in specific sizes – usually something like 4×6, 3×4, or 2×3, or such. And these sizes are set.
So, when you start the resizing process with the photo, you can easily adjust everything on the page to fit the photo size.
Fangt beim Foto an
Ich empfehle, dass ihr mit dem Foto anfangt. Denn gewöhnlich gibt's Fotos in bestimmten Größen, und diese Größen sind festgelegt.
Wenn ihr so beim Foto anfangt, dann könnt ihr relativ einfach alles Andere auf der Seite der Fotogröße anpassen.
Whatever size photo you are planning to use for your page, that's the size to which you change the photo size in the template
Die Fotogröße, die ihr für euer Layout verwenden möchtet, auf diese Größe passt ihr das Foto in der Vorlage an.
Resize the Rest of the Layout
Once you've resized your photo(s), select everything else on the page (minus the photos). Then, dragging from the corner, adjust the size until the layout matches the photo size. (It doesn't have to be exact.) You may have to adjust a few things here or there to make everything fit well.
Die Größe der übrigen Elemente anpassen
Nachdem ihr eure Foto(s) angepasst habt, wählt ihr alle übrigen Elemente (ohne Fotos) aus. Dann zieht ihr von einer Ecke aus anfangend, bis die Größe des Layouts mit der Größe der Fotos übereinstimmt. Vielleicht müsst ihr hier und da noch ein paar kleinere Anpassungen vornehmen.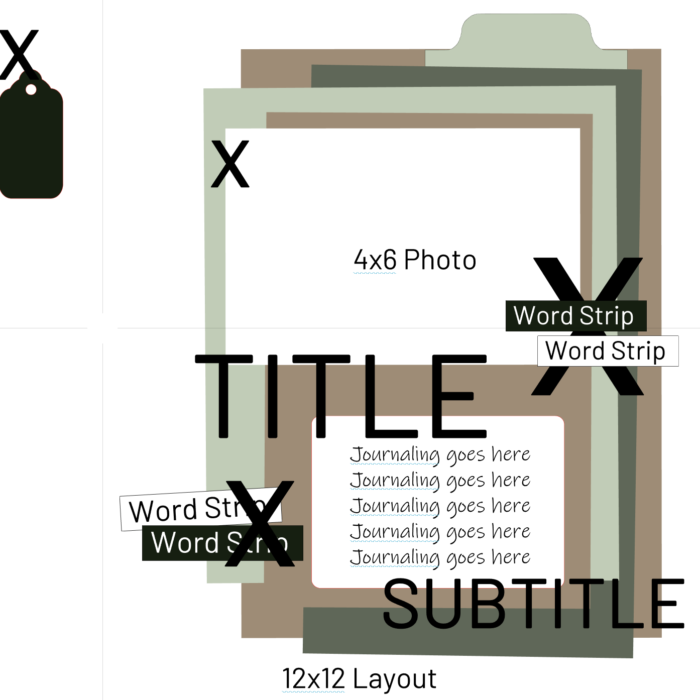 Decide Position of Clusters
Now, you can still determine where exactly on your page you want your clusters to go. You have full freedom to place them anywhere on your page where they fit (it doesn't have to be according to the original template). However, I recommend you pay attention to the Rule of Thirds when you decide on the position of your clusters.
Bestimmt die Position des Designs
Jetzt könnt ihr noch entscheiden, wo auf der Seite ihr das neue Design platzieren möchtet. Ihr könnt euch an der Vorlage orientieren, oder aber selbst bestimmen, wo genau das Design platziert wird. Wenn ihr euch für eine neue Position entscheidet, empfehle ich euch, nach der Dreierregel vorzugehen.
That's it! That's all that is to turning a TN sketch into a full scrapbook layout. That's the beauty of these templates. You're not at all bound to use them as TN templates at all.
Das war's dann auch schon. Mehr gibt es nicht, um eine TN Vorlage in ein volles Scrapbook Layout umzuwandeln. Das ist das Geniale an diesen Vorlagen – ihr seid nicht daran gebunden, sie nur als TN Vorlagen zu verwenden.
And here is the download for all the scrapbook templates shown in this post (except the TN template, which you can find under the weekly sketches).
Just remember that the Terms of Use for Misty Hilltops Designs apply.
Und hier geht's zum Download von allen Scrapbook Vorlagen, die hier zu sehen sind (mit Ausnahme der TN Vorlage, die ihr unter "Weekly Sketches" finden könnt).
Bitte beachtet nur wie immer die Nutzungsbedingungen für Misty Hilltops Designs.