Anzeige (Kann Produktempfehlungen enthalten) / Advertisement (May contain product endorsement)
English
On my Youtube channel, I recently released a video on how I create paper flags with toothpicks. So, it's time for me to share that here.
I've used toothpick flags in various projects, as you can see here:
Deutsch
Auf meinem Youtube Kanal habe ich vor kurzem ein Video veröffentlicht, das zeigt, wie man kleine Flaggen aus Papier herstellen kann.
Diese Flaggen habe ich schon mit verschiedenen Projekten verwendet, wie ihr hier seht:
Strips of patterned paper
Toothpicks
Glue
Streifen von buntem Papier
Zahnstocher
Kleber
First off, let me say that you can use patterned papers from a paper pad just as much as I used digital scrapbook paper for my samples here.
An erster Stelle möchte ich betonen, dass ihr Papiere von Blöcken genauso verwenden könnt, wie digitale Papiere, die ich hier in meinen Musterbeispielen verwendet habe.
All you need is a flag shaped paper strip that is about an inch or so longer than the flag you want to create.
Zunächst schneidet ihr euch einen Streifen Papier zurecht, den ihr dann so einschneidet, dass eine Flagge entsteht. Der Streifen sollte so etwa 1,5 cm länger sein, als die Flagge, die ihr am Ende haben möchtet.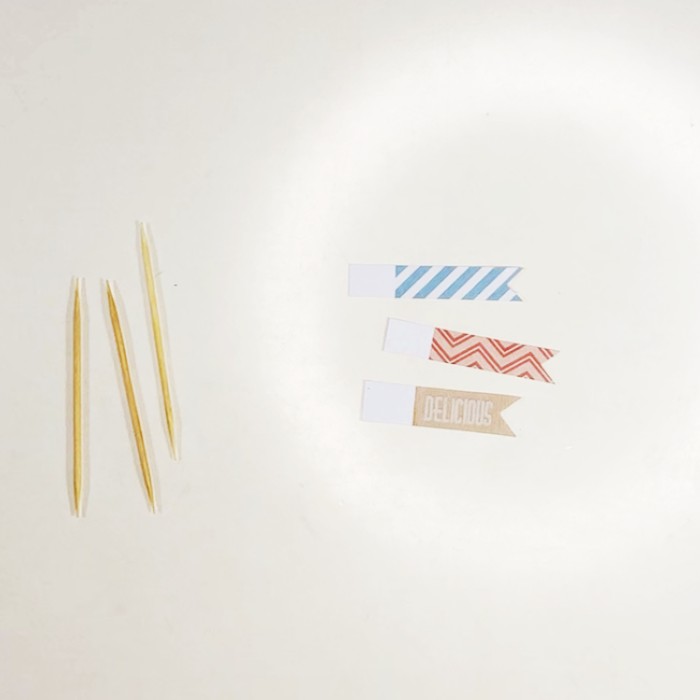 Start rolling up your paper around the toothpick to pre-shape your paper, and make the gluing part easier.
Fangt damit an, dass ihr das Papier um den Zahnstocher wickelt, damit ihr das Papier schon einmal vor-formen könnt.
Apply glue to what will be the backside of your flag, on that part of the paper that you added. (That part of the paper that's the size of your flag should have no glue.)
Verteilt Klebstoff auf der Rückseite, auf dem Bereich, den ihr zusätzlich zu eurer Flaggengrösse gelassen habt. (Der Teil, der am Ende eure Flagge wird, bekommt keinen Klebstoff.)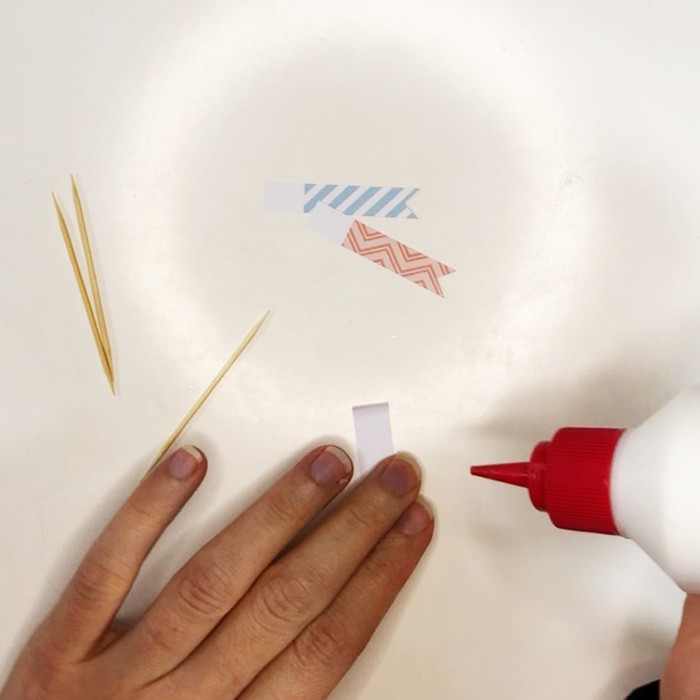 Then wrap the part of the paper that has the glue tightly around the toothpick. (I recommend not to wrap it around the very tip of the toothpick but closer to where it's at its thickest.)
Dann wickelt den Teil des Papieres, der den Klebstoff hat, fest um den Zahnstocher. (Ich empfehle, dass ihr die Flagge nicht an der äußersten Spitze anbringt, sondern mehr dort, wo der Zahnstocher am Dicksten ist.)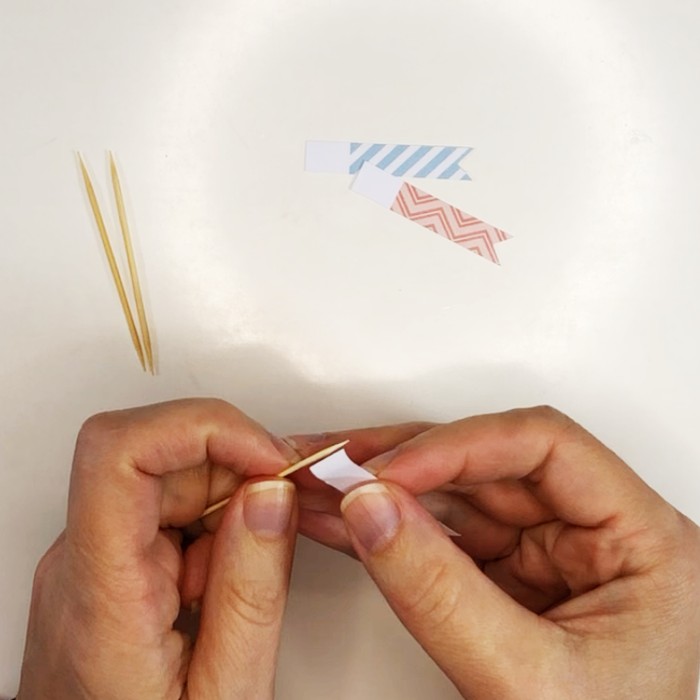 Tip: Don't apply glue to the entire glue strip, but add more as you go. (If you want to avoid getting things too messy.)
Tipp: Verteilt den Kleber noch nicht auf der ganzen Klebeseite, sondern fügt mehr hinzu, nachdem ihr angefangen habt, das Papier an den Zahnstocher zu kleben. (Vermeidet, dass eure Finger ganz verklebt werden.)
Note: You can wrap the flag one way (left) or the other (right). However, pay attention when you use directional paper.
Beachtet: Ihr könnt die Flagge in beide Richtungen erstellen. Nur wenn euer Papier eine Ausrichtung hat, solltet ihr diese dabei beachten.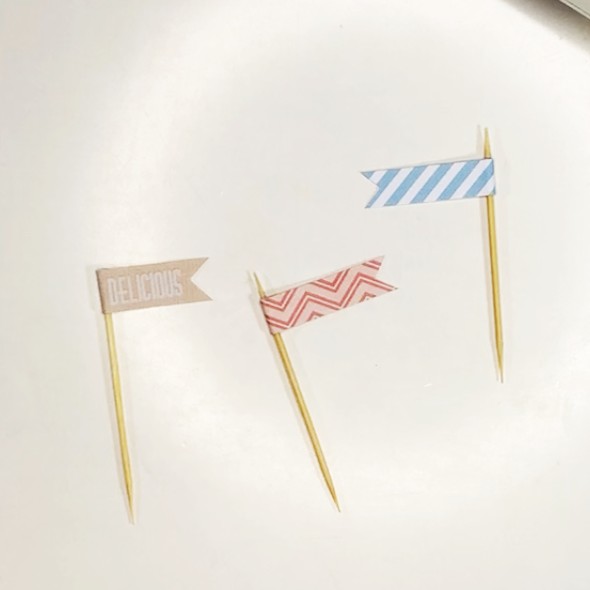 Here is the video tutorial for this:
Hier ist die Videoanleitung (leider nur auf English, aber vielleicht geht es auch mit Untertiteln).