Mein Tagebuch: November Wortassoziationen
November is here and for this week I have a couple of word associations ready for you. Take a look at the options, then write about what comes to your mind. You can either choose one of the pairs to contrast and write about your preferences; or you can simply pick one of the words and simply write what comes to your mind.
Der November ist da und für diese Woche habe ich ein paar Wortverknüpfungen für euch vorbereitet. Seht euch mal die Vorgaben an und schreibt dann was euch so in den Sinn kommt. Ihr könnt entweder eines der Wortpaare nehmen, sie miteinander vergleichen und über eure Vorlieben reden; oder ihr könnt euch einfach eines der Wörter nehmen und lustig drauflos schreiben.
November Wortverbindungen
1. Kerzenlicht oder Kaminfeuer
2. Familie oder Freunde
3. Pullover oder Jacke
4. Kürbiskuchen oder Karameläpfel
5. draußen oder Sessel
And here's a layout inspired by one of these associations:
Und hier ist ein Layout, bei dem ich mich von einer der Verbindungen hab inspirieren lassen: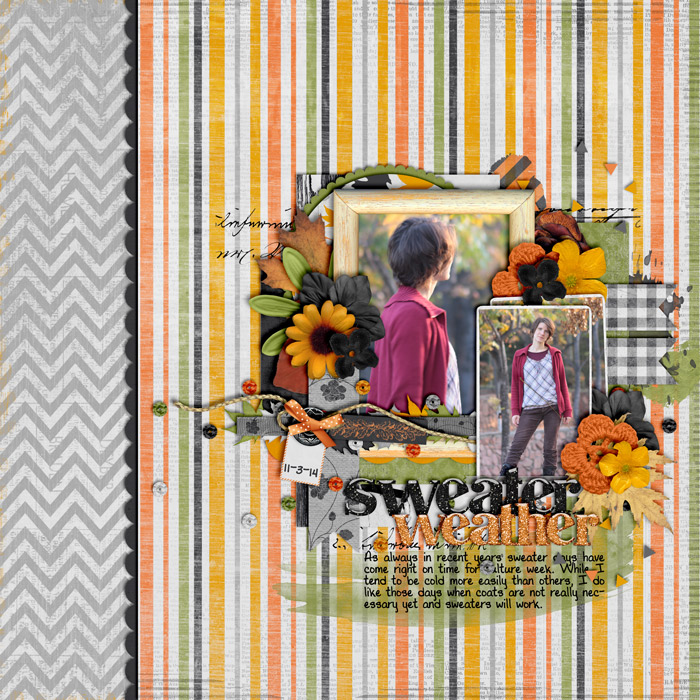 By the way, Karry, I responded to your question in last week's post, so you might want to check that if you haven't done so yet. Here's the link to that post: http://mistyhilltops.com/digiscrap-corner/journaling-cafe-november-2/
Übrigens, Karry, ich habe auf den Frage von letzter Woche geantwortet. Brauchst einfach nur nochmal im Artikel von letzter nachschauen, falls du's noch nicht entdeckt hast. Hier ist der Link zu dem Artikel: http://mistyhilltops.com/digiscrap-corner/journaling-cafe-november-2/