Anzeige (Kann Produktempfehlungen enthalten) / Advertisement (May contain product endorsement)
English
It's finally time to start sharing my latest digital scrapbook collection, called Heartstrings. But as I have a hard time limiting myself to mini kits, I decided to go back to sharing these kits in individual installments. So, today you'll get the alphas. There are two full sets of upper case letters and numbers.
Have fun with these, and don't forget to come back to collect the papers and the embellishments.
Deutsch
Es ist endlich an der Zeit, die nächste digitale Scrapbook Kollektion mit euch zu teilen, die Heartstrings heißt. Aber da es mir schwer fällt, nur Minikits zu erstellen, habe ich beschlossen, zum alten Format zurückzukehren. D.h. ihr könnt euch die Kollektion in mehreren Teilen herunterladen. Heute gibt's erstmal die Alphas. Das Pack enthält zwei volle Alphas (Großbuchstaben & Zahlen).
Viel Spaß dabei. Und vergesst nicht, zurückzukommen, um euch die Papiere und Elemente abzuholen.
A set of corresponding journal cards has already been shared here a couple of weeks ago.
Ein Set von passenden Journalkarten wurde hier schon vor ein paar Wochen zur Verfügung gestellt.
Also corresponding would be the word strips that I shared last week:
Passend sind auch die Wortstreifen, die ich letzte Woche geteilt habe: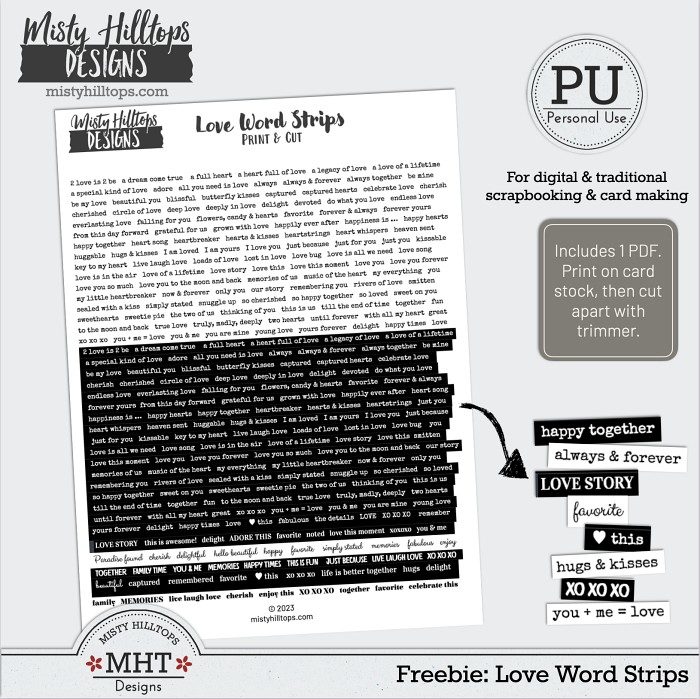 And if you're looking for inspiration on titles you can use on Valentines pages, you can check out THIS POST:
Und falls ihr nach Inspiration für Titel bei euren Valentinsprojekten sucht, dann solltet ihr euch auch diesen Artikel ansehen:
As always, I'd like to remind you to
respect my Terms of Use
. This and any other of my freebie products are available for personal use only. You may not use it for commercial purposes. You may not re-distribute it, sell it, share it, or make available in any other way to anyone else. You may not direct link to the product on the mediafire website. If you want others to enjoy this product, please send them to this post or website. You are welcome to share about this post or website on Pinterest or via your blog and social media.
Wie immer möchte ich euch daran erinnern, meine
Nutzungsbedingungen zu respektieren
. Dieses und jedes andere meiner Freebie Produkte steht euch nur für den persönlichen Gebrauch zur Verfügung. Ihr dürft es in keiner Weise kommerziell verwenden. Ihr dürft es nicht weitergeben, verkaufen, mit anderen teilen oder anderen in sonst irgendeiner Weise zur Verfügung stellen. Ihr dürft auch nicht die direkten Links zur Mediafire Webseite an andere weitergeben. Wenn ihr möchtet, dass andere in den Genuss dieses Produktes kommen, weist sie doch bitte auf diesen Artikel oder diese Webseite hin. Ihr dürft auch gerne über diesen Artikel oder diese Webseite auf Pinterest, eurem Blog oder euren Sozialen Medien posten.
Of course, I'd love to see what you create with the designs from this site, so always feel free to come back and share links to your projects in any one of the freebie posts.
But for now: Have fun with this one.
Natürlich würde ich liebend gerne sehen, was ihr aus den Designs von dieser Seite macht. Fühlt euch daher so frei, Links zu euren Projekten in jedem beliebigen Freebie Artikel zu hinterlassen.
Aber jetzt erstmal euch viel Spass mit diesem Kit.