Freebie Freitag: Like Sunshine – Part 6
We've done it once more! We've finished gathering another freebie collection. This is the last download of the current collection "Like Sunshine" which means today you'll get to pick up the final part of the ellies. Time to celebrate! And time for you to finally get playing with this! I hope you'll have fun with it. Thanks also for those among you who are so kind to leave a comment. That always means so much to me!
Wir haben's mal wieder geschafft! Wir haben uns eine weitere Freebiekollektion zusammengesammelt. Dies ist der letzte Download der gegenwärtigen Kollektion "Like Sunshine" was bedeutet, dass ihr heute den letzten Teil der Elemente runterladen könnt. Zeit zum Feiern! Und Zeit, endlich mit diesem Kit herumzuspielen. Ich hoffe, ihr habt Spass damit. Danke auch an alle unter euch, die so nette Kommentare hinterlassen. Das wärmt mir immer das Herz und bedeutet mir viel.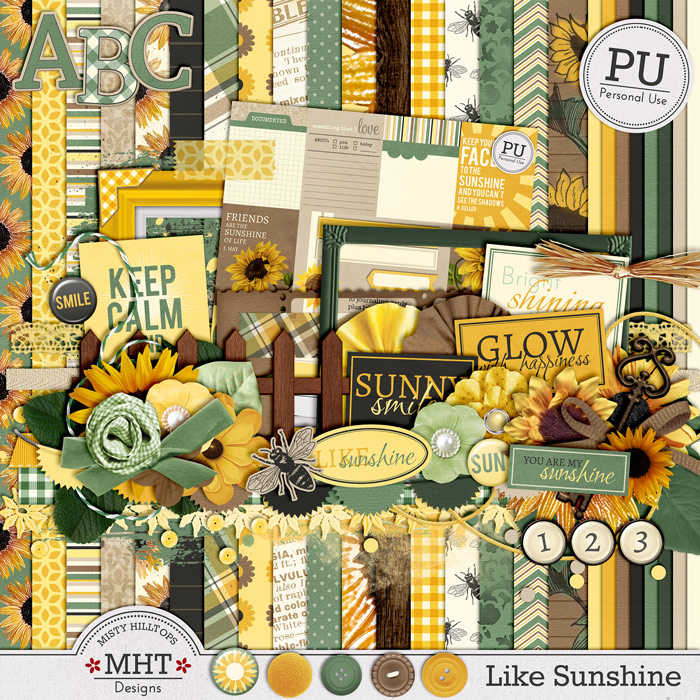 Click on image to download / Zum Download aufs Bild klicken
As always, I'm asking you to please play fair and keep in mind my Terms of Use (no sharing, no selling, no commercial use of any kind, no direct linking, etc.). You'll find my full TOUs HERE.
Wie immer bitte ich euch, fair zu sein, und meine Nutzungsbedingungen zu respektieren (keine Weitergabe, kein Teilen, kein Verkauf, keine kommerzielle Nutzung und kein direktes Verlinken, etc.). Meine vollen Nutzungsrechte könnt ihr HIER finden.
If you've just discovered mistyhilltops.com, there's no need to worry. You can find all older freebies and previous downloads when you click on the tag "Freebies." Except for some of my early templates most of my freebie products are still available.
Wenn du mistyhilltops.com gerade erst entdeckt hast, keine Sorge. Du kannst alle älteren Freebies und die letzten Downloads finden, wenn du auf das Label "Freebies" klickst. Mit der Ausnahme von ein paar meiner ältesten Templates stehen alle meine Freebies immer noch zum Download zur Verfügung.
And now I'm really excited, because I've been busy the last couple of days to create my next freebie collection "Where Blessings Fall" – which is an autumn themed kit plus journaling cards, perfect to scrap all your autumn memories this year. So, don't forget to come back soon in order to collect all the parts over the next couple of weeks. For now, I'm left to wish you a happy weekend, and happy scrapping!
Und nun bin ich schon ganz aufgeregt, weil ich in den letzten Tagen fleissig an einer neuen Kollektion gearbeitet habe. "Where Blessings Fall" ist ein Herbstkit mit Schreibkarten und genau das Richtige, alle eure Herbsterinnerungen dieses Jahr zu scrappen. Also vergesst nicht, bald wieder hier vorbeizuschauen, und euch über die nächsten paar Wochen hinweg alle Teile dieser Kollektion einzusammeln. Jetzt aber wünsche ich euch noch ein schönes Wochenende und viel Spass beim Scrappen!