Dokumentiere Weihnachten (oder: December Daily) 2016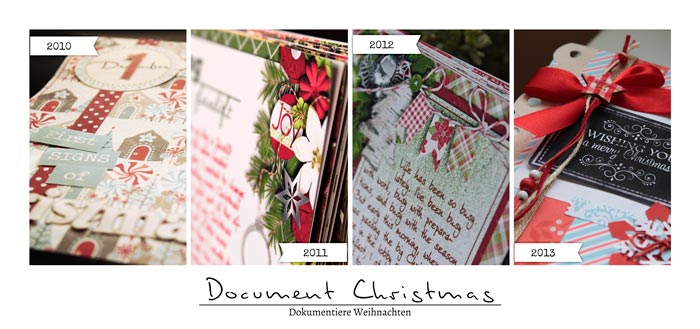 Whaaa! It's that time of year again, to get going on that Christmas album. I've been doing it for six years now (I think) and it's always such a wonderful experience. Of course, as usual, I'm kind of late with starting to talk about it here just now, but then, we still have about two weeks to go until December.
For my part, I've decided to go all digital again this year. Did an all out hybrid album last year, which turned out beautiful (and I'm going to share the details with you on Thursday in my hybrid post, since I never shared any of it with you last year). But since I'm too busy for doing a hybrid album this year, I'm glad I do have the digital alternative, which does go a lot faster.
For those of you who have never done a Christmas album, or are looking for more ideas or inspiration, check out my post from two years ago, titled "Document Christmas – 5 Good Reasons to Do It & Project Christmas 2014." It's  a long post, but if you scroll to the very bottom, you can find a bunch of links to useful posts, tips and tricks.
I'd also like to point you to the freebie template set I shared with you two years ago. If you choose to use it, it will make your life so much easier. Just hop over to the post "Document Christmas 2014 – Week 3 Recap & a Little Freebie" and scroll down a bit to get to the download link.
Waaa! Ist es schon wieder soweit, sich Gedanken über das Weihnachtsalbum zu machen! Inzwischen mache ich die Alben schon seit sechs Jahren und für mich ist das immer ein ganz besonderes Ereignis. Natürlich bin ich wie immer ein bisschen spät dran, euch hier davon zu erzählen. Aber wir haben immerhin noch zwei Wochen, bis der Dezember anfängt.
Dieses Jahr habe ich mich wieder dafür entschieden mein Album ganz digital zu gestalten. Habe letztes Jahr  ein Album gebastelt, das auch ganz hübsch geworden ist (und ich werde es euch am Donnerstag in meiner Bastelecke zeigen, da ich es letztes Jahr nicht präsentiert habe). Aber da ich dieses Mal zu viel um die Ohren habe, bin ich doch froh, dass ich die digitale Alternative habe, welche sehr viel schneller geht.
Für diejenigen unter euch, die noch nie ein Weihnachtsalbum erstellt haben, oder die weitere Ideen und Inspiration suchen, schaut euch mal meinen Post "Dokumentiere Weihnachten – 5 Gründe dafür und das Projekt 2014" an. Es ist ein langer Artikel, aber ganz unten könnt ihr eine Reihe von Links finden, die euch mit nützlichen Tipps und Tricks verbinden.
Euch möchte euch außerdem auf mein Freebie Vorlagenset hinweisen, das ich vor zwei Jahren hier publik gemacht habe. Falls ihr euch dafür entscheidet, wird es euer Leben sehr viel einfacher machen. Einfach mal hier vorbeischauen: "Weihnachtsalbum 2014 – 3. Wochenrückblick & ein Freebie." Den Link findet ihr dann unten.
If you're looking for still more inspiration, just type the terms December Daily, or Document Christmas in the search line, and lots of posts will pop up with all kinds of tips and inspiration.
Let me know what you're doing for Christmas this year, and hook me up with links to your projects (current and previous), because I'm always looking for more ideas.
Falls ihr dann noch mehr Inspiration wollt, gebt einfach die Suchbegriffe December Daily, oder Document Christmas (Weihnachtsalbum) ein, und ihr werdet eine ganze Reihe von Artikeln finden.
Was für ein Album plant ihr denn für diese Weihnachtszeit? Ihr dürft mich gerne mit Links zu euren Projekten (gegenwärtige aber auch vergangene) vernetzen, denn ich halte immer nach Ideen Ausschau.