English
I started sharing sketches on this site as part of the freebie collection that is accumulating here. But as these sketches are a lot more than just inspiration, it's time that I start putting this post together that explains in what ways you can use these sketches.
We'll start with an overview of how these sketches/templates can be used.
Then we'll take a closer look at each of these ways.
And in the end, I'll offer some tips and recommendations.
Deutsch
Ich habe angefangen, Vorlagen hier auf der Seite als Teil der Freebie Kollektion, die sich langsam aufbaut zur Verfügung zu stellen. Aber diese Vorlagen können viel mehr, als nur als Inspiration zu dienen. So ist es längst Zeit, dass diesen Artikel zusammenstelle, der erklärt, auf welche Weise diese Vorlagen genutzt werden können.
Wir fangen mit einem Überblick an. Dann schauen wir uns die einzelnen Punkte genauer an.
Und am Ende habe ich noch ein paar Tipps und Empfehlungen.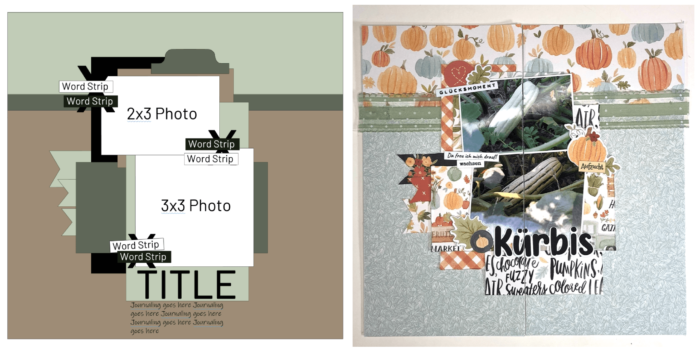 Sketches/Templates at a Glance
You can use these sketches/templates in several ways:
Use as simple sketch (inspiration).
Use as template for traditional scrapbook products.
Use as template for digital products.
Use as template for a mix of traditional and digital products.
Use as sketch/template for layouts other than traveler's notebooks.
Vorlagen im Überblick
Ihr könnt diese Vorlagen auf verschiedene Weise nutzen:
Als einfache Vorlage zum abgucken (Inspiration).
Als (Schneide)Vorlage für traditionelle Scrapbook Produkte.
Als Schneidevorlage für digitale Produkte.
Als Schneidevorlage für eine Mischung aus digitalen und herkömmlichen Produkten.
Als Vorlage für Layouts, die nicht auf der Idee von Traveler's Notebooks beruhen.
And here is how things work in particular.
1. Simple Sketch
Just take inspiration from the image and build your page based on it.
Und so geht es im Einzelnen.
1. Vorlage zum Abgucken

Nehmt einfach die Inspiration der Vorlage und stellt eure Seite eigenh¨andig nach der Vorlage zusammen.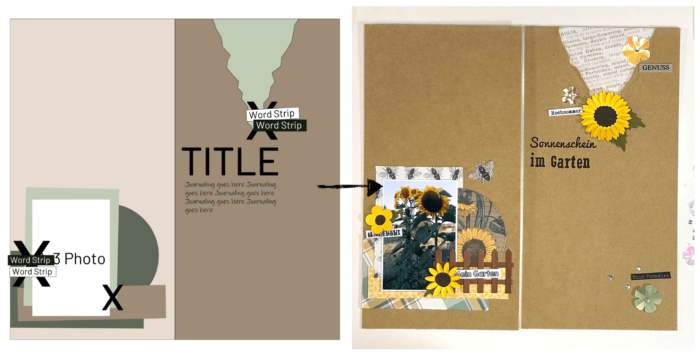 2.a. Template Traditional Style (Option A)
Open the file (in Silhouette Studio or in your cutting machine's software, using the svg). Get the measurements of each item, then cut your papers accordingly with your trimmer, die cuts, or by hand.
2.b. Template Traditional Style (Option B)

Open the file in your machine's software, then use the individual elements of the layout to cut your papers and other elements. (If you choose this option, I recommend you pay attention to the recommendations below.)
2.a. Vorlage für traditionelles Scrapbooking (Option A)
Öffnet die Datei (in Silhouette Studio oder die SVG Datei mit der Software eures Schneidegeräts). Dann nutzt die Maße der einzelnen Elemente, um eure Papiere und Elemente zuzuschneiden (Trimmer, Stanzen, per Hand).
2.b. Vorlage für traditionelles Scrapbooking (Option B)

Öffnet die Datei in der Software eures Gerätes, dann nutzt die individuellen Elemente der Vorlage, um eure Papiere und andere Elemente auszuschneiden. (Wenn ihr diese Option wählt, empfehle ich, dass ihr auch die Empfehlungen (Hilfreiche Tipps) unten beachtet.
3. Template for Digital Products

The next option I recommend here is that you can use your digital products to clip to the individual elements of this template. Arrange everything for printing, then print and cut. (You can download the digitals freebie kits available here at mistyhilltops.com to get you started with digital products.)
3. Vorlage für digitale Produkte

Die nächste Option, die ich hier empfehle ist, dass ihr eure digitalen Produkte benutzen könnt, um sie auf die individuellen Elemente dieser Vorlage zuzuschneiden. Ordnet alles so an, dass die Elemente gedruckt und dann ausgeschnitten werden können. (Ihr kannst euch eine Reihe digitaler Kits hier bei mistyhilltops.com als Freebie herunterladen, um mit digitalen Produkten zu beginnen.)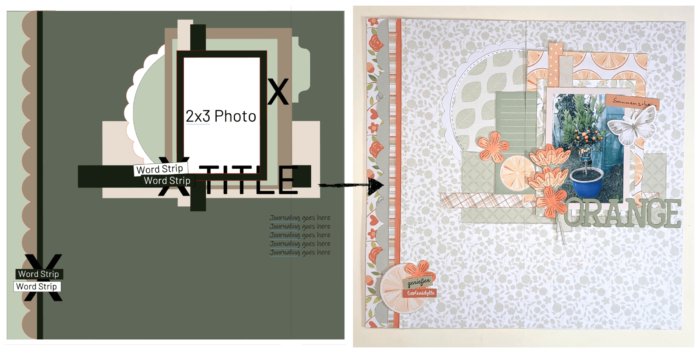 4. Template for Mix of Traditional & Digital Products
Obviously, you can use a mix of traditional and digital products for these sketches.
4. Vorlage für eine Mischung aus traditionellen und digitalen Produkten
Natürlich könnt ihr für diese Vorlagen auch eine Mischung aus traditionellen und digitalen Produkten verwenden.
5. As Template for Layouts Other Than Traveler's Notebooks
You can, of course, use the layouts for pages other than traveler's notebook sizes. Just remove the background layer, then resize everything to fit a 12×12 layout or any other size that you like to scrap. With a little rearranging, you could probably also turn these into letter size layouts.
5. Vorlage für andere Layouts und Größen
Nicht zuletzt könnt ihr diese Layouts auch für Seiten anderer Layoutgrößen verwenden. Nicht nur für Traveler's Notebooks. Dazu braucht ihr nur den Hintergrund zu entfernen, und dann alles für ein 12×12 Layout vergrößern, oder auf jede andere Größe verändern. Mit nur wenig Anpassung, könnt ihr diese Vorlagen sicher auch für A4 Seiten verwenden.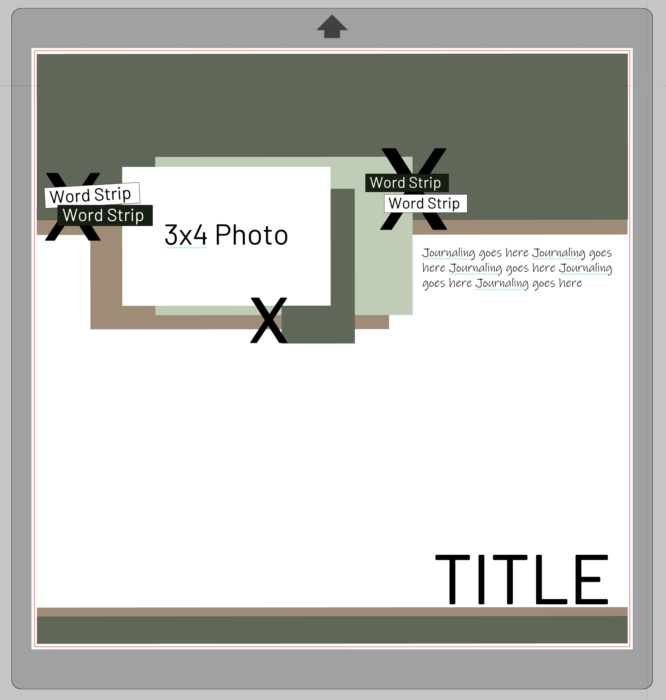 Recommendations
1. Use a Copy (Not the Original)
If you want to be able to reuse this template, I highly recommend you copy the file, and work with the copy, not the original. Once you opened the copy, you can delete all instructions (if you like), and move things around.
2. Keep Arrangement
When working with digital products, keep one version in which you have the arrangement as you intend it to look on the finished page for ease of reference. Copy the papers and elements you want to use for printing, and either paste them into the same document (moving the original arrangement out of the cut space into the gray area), or paste them into a new document where you prepare everything for cutting.
Hilfreiche Tipps
1. Verwendet einen Kopie (nicht das Original)
Für den Fall, dass ihr eure Vorlage erhalten möchtet, empfehle ich, dass ihr euch eine Kopie anlegt und damit arbeitet. Bei der Kopie könnt ihr alle unerwünschten Bestandteile (Anweisungen, Beschriftungen) entfernen, und Elemente hin und herschieben.
2. Behalte die ursprüngliche Anordnung
Wenn ihr mit digitalen Produkten arbeitet, empfehle ich euch, dass ihr eine Version der fertigen Anordnung beibehältst. Dann vergesst ihr nicht, wie ihr alles geplant habt. Entweder könnt ihr dieses Design auf die Seite (außerhalb des Schneidebereichs – Graufläche) verschieben, oder kopiert eure Drucksachen in ein neues Dokument, wo ihr alles für den Druck anordnen könnt.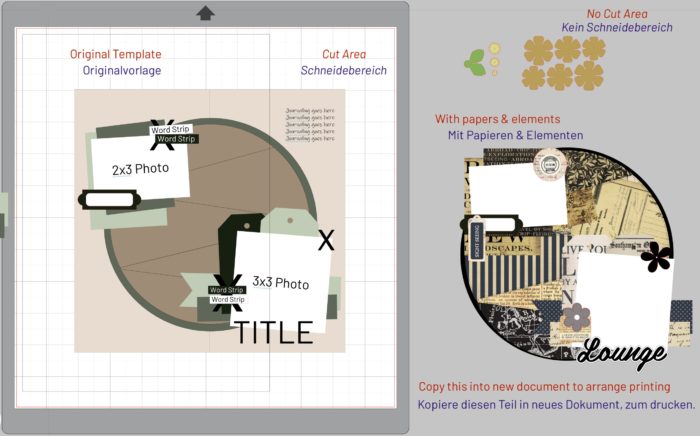 Because I use different weights of cardstock for papers and elements, I actually create a new doc for papers to be printed, and a separate one for elements.
Da ich Papiere von unterschiedlicher Stärke für Papiere und Elemente verwende, erstelle ich ein neues Dokument für Papiere, die ausgedruckt werden sollen, und ein separates für die Elemente.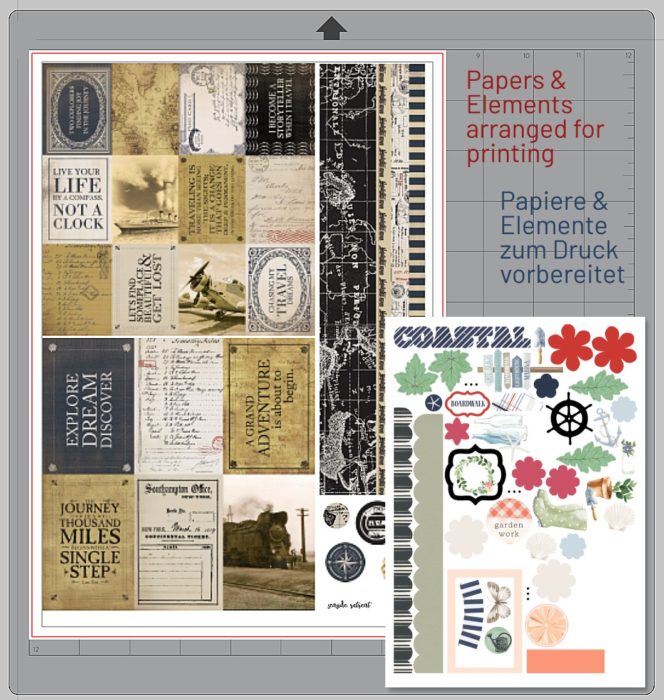 Watch a video of how to use the template/sketch:
Hier gibt's ein Video, das zeigt, wie die Vorlage verwendet werden kann:
The following video shows how you can prepare your template for printing and cutting.
Das folgende Video zeigt, wie man die Vorlage f¨ur's Drucken und Schneiden vorbereitet.
Here you can see how a cutting template becomes a finished layout:
Hier könnt ihr sehen, wie eine Schneidevorlage zum fertigen Layout wird:
Also, keep an eye out on a video tutorial that's coming soon that explains how I get perfect prints & cuts with my Silhouette.
Übrigens kommt bald ein Video, das erklärt wie ich perfektes Drucken & Schneiden mit meiner Silhouette hinbekomme.