Schreibwerkstatt: Erntezeit
Still feels very much like summer to me, but I know elsewhere around the globe autumn is in full swing. And as autumn is harvest time, this week's journaling prompts are all about autumn produce and harvest. Take a look:
Für mich fühlt es sich immer noch sehr nach Sommer bei uns an, aber ich weiss, dass anderswo der Herbst schon in vollem Schwung ist. Und da Herbst auch Erntezeit ist, geht es in den Schreibideen für diese Woche auch um Herbstfrüchte und Ernte. Schaut mal: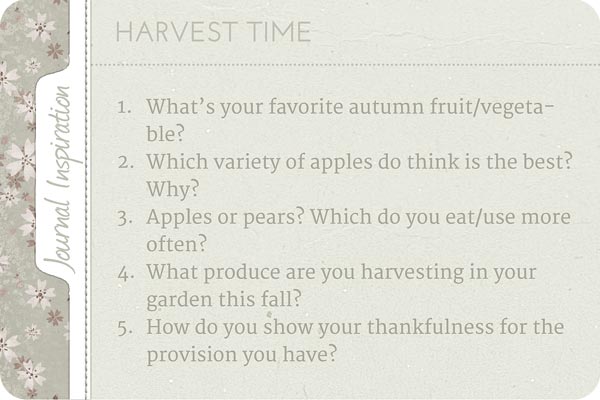 Erntezeit
Was ist dein Lieblingsobst/-gemüse im Herbst?
Welche Apfelsorte findest du am Besten? Warum?
Äpfel oder Birnen? Was ist du mehr?
Was erntest du in deinem Garten in diesem Herbst?
Wie zeigst du deine Dankbarkeit für das, was du hast?
And here's a layout I created based on one of the prompts:
Und hier ist eine Seite, die ich basierend auf einem der Vorschläge erstellt habe: