Schreibwerkstatt: Goldene Stunde
We'll continue our talks about autumn, and this week, I'd like to talk about the golden times of autumn. Here are the latest journaling prompts:
Wir setzen unsere Auseinandersetzung mit dem Herbst fort und diese Woche möchte ich über die goldenen Zeiten des Herbsts reden. Hier sind die neuesten Schreibideen: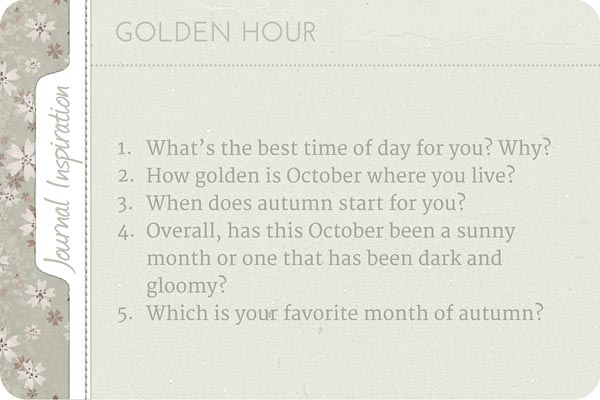 Goldene Stunde
Welches ist die beste Zeit des Tages für dich? Warum?
Wie golden ist der Oktober, wo du lebst?
Wann fängt der Herbst deiner Meinung nach wirklich an?
Generell, ist dieser Oktober eher sonnig oder trübe gewesen?
Welches ist dein Lieblingsmonat im Herbst?
Here's the layout I created based on one of these prompts:
Hier ist das Layout, dass ich aufgrund einer dieser Vorschläge erstellt habe: