Weihnachtsalbum 2022 – Novembertage
Anzeige (Kann Produktempfehlungen enthalten) / Advertisement (May contain product endorsement)
English
As I explained in my previous post, I usually start my Christmas album in November, with Thanksgiving, as that's pretty much where the holiday season begins for me.
Deutsch
Wie ich in meinem letzten Post schon erklärt habe, geht's mit meinem Weihnachtsalbum wie gewöhnlich schon im November los. Mit Thanksgiving, weil das in der Regel für mich die Weihnachtszeit einläutet.
So, I started working on the first couple of days in my album, and that was all just easy. I decided to use the inside front cover for all my pre-December Christmas activities. I created a waterfall-type page, for which each side of the flaps will represent one day. And to allow for some flexibility, I created a bunch of pockets, into which I can then tuck my photos, journal cards, and any other element.
Also habe ich schon angefangen, an den ersten paar Seiten meines Albums zu arbeiten. Und das war auch ganz leicht. Ich habe für die Novembertage ausschließlich die Innenseite des Buchdeckels verwendet, und dort eine Art Wasserfall mit Faltseiten erstellt. Auf jede dieser Klappen kommt dann ein Einsteckfach. Und so habe ich ganz viel Freiheit, wieviele Fotos, Journalkarten und andere Elemente ich darin unterbringen möchte.
For my pockets, I decided to use existing designs from my Silhouette library, and turn those designs into pockets. And I love how this turned out.
Für die Einsteckfächer habe ich Designs aus meiner Silhouettebibliothek verwendet, die ich kurzerhand in Fächer umgewandelt habe. Und das Ergebnis gefällt mir.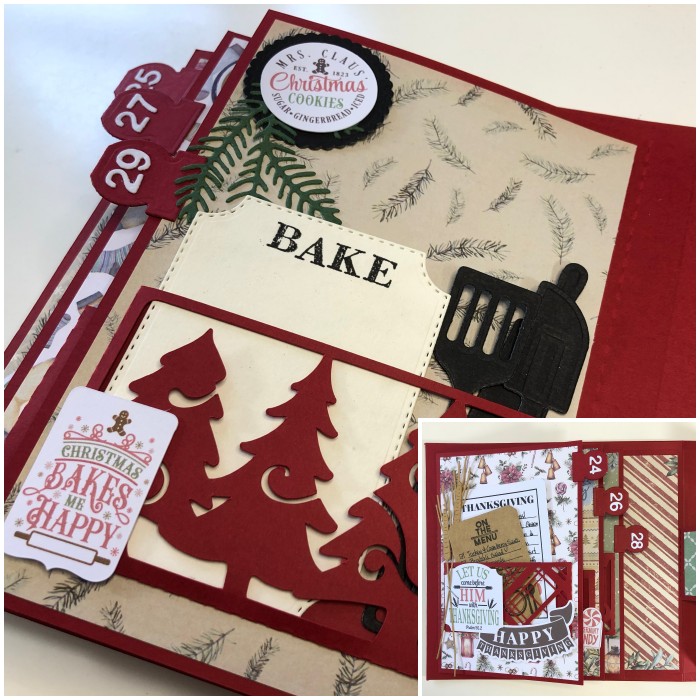 In the end, I added date tabs to each of the flaps.
Zum Schluss habe ich noch jede Klappe mit Datumsschildchen versehen.
Merry Christmas and a Happy New Year Paper Pack
Silhouette Studio Cut Files
Stamps & Dies
Here is the process video for the waterfall with three 4×6 flaps:
Hier gibt's das Video für den Wasserfall mit 3 4×6 Klappen:
Schneidedateien für dieses Album
Click on each of the parts below to get to the post that contains links to this album.
Klickt auf die einzelnen Teil, um zu den Artikeln zu kommen, die Downloads zu den verschiedenen Teilen enthalten.
More parts of this album are still to come.
Weitere Teile zu dem Album kommen noch.