Germany – Switzerland – Italy/Chianti | Deutschland – Schweiz – Italien/Chianti
With niece no. 1 having so much time at hand, and my summer holidays having just started, we've decided to go on holiday together. To Italy, we want to go, to Tuscany. The borders have just opened again, and with the camper we're independent enough that we'll dare to go.
We set out around 4:20 am in the morning. There is little traffic at the time and we make it to the Swiss border in good time.
At the border, we're just asked where we are going, then they let us pass. We still need to buy the Vignette, and then we're on our way again.
Past Zurich (which as usual is a traffic nightmare), we make straight for the Swiss heartland.
We pass the beautiful area around Lake Lucerne, and here we get our first glimpse of the majestic Swiss Alps.
We stop for a little Knäckebrot breakfast at a small rest area, then niece no. 1 takes over driving, and we're making our way further into the Swiss Alps, and before we know it, we've reached the Gotthard Tunnel, and there wasn't any traffic jam at all.
We pass Lake Como, and arrive in Italy. A few more hours, then we meet up with sister 1 and husband, where we switch cars. The rendezvous works out perfectly.
Da Nichte Nr. 1 so viel Zeit hat und meine Sommerferien gerade gestartet sind, haben wir beschlossen, miteinander zu verreisen. Nach Italien soll's gehen, in die Toskana. Die Grenzen haben gerade aufgemacht, und mit dem Camper sind wir unabhängig genug, dass wir uns ans Reisen wagen.
Morgens um 4:20 Uhr geht's los. Es herrscht wenig Verkehr und bis zur Schweizer Grenze geht es wie im Flug.
An der Grenze werden wir lediglich gefragt, wohin es geht, dann lassen sie uns passieren. Schnell noch die Vignette besorgt, und schon gehts weiter.
An Zürich vorbei (was verkehrstechnisch immer irgendwie ein Albtraum ist), gehts hinein ins Schweizer Herzland.
Vorbei am Vierwaldstätter See fahren wir, und dann direkt in die majestätischen Alpen.
Nach einem kleinen Frühstück übernimmt Nichte Nr. 1 das Fahren, und im Nu sind wir schon am Gotthard Tunnel. Es herrscht so wenig Verkehr, dass wir ohne Verzögerung durchkommen. Beim Comer See passieren wir schließlich die Grenze nach Italien. Ein paar weitere Stunden, dann treffen wir auf Schwester 1 und Schwager, wo wir von ihnen den Camper übernehmen.


Florence | Florenz
Our main destination today is Florence. After a short break, we stop at the parking lot high above the city, from which we have a great view.
Das große Ziel für heute ist Florenz. Dort fahren wir nach kurzer Pause den Parkplatz über der Stadt an, von wo man einen herrlichen Ausblick hat.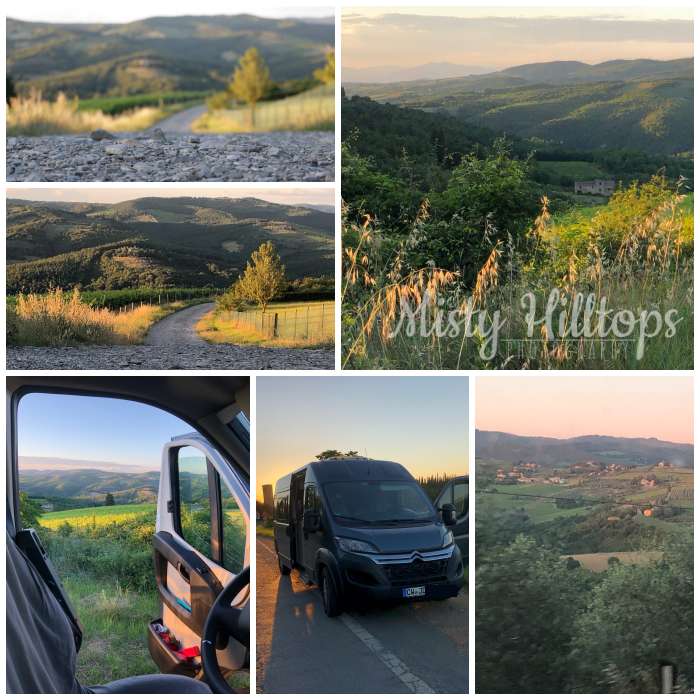 Chianti
It's getting late, and from Florence we travel on to Chianti. It's the Tuscan wine land. Niece no. 1 finds us a remote spot right in the vineyards, where we spend the night.
Der Abend ist schon fortgeschritten, so reisen wir von Florenz weiter ins toskanische Weinland um Chianti. Hier hat Nichte Nr. 1 uns einen abgelegenen Schlafplatz mitten in den Weinbergen ausgekundschaftet.