Von Glücklichen Löchern
Guess, what this means …
Ratet mal, was dies bedeutet: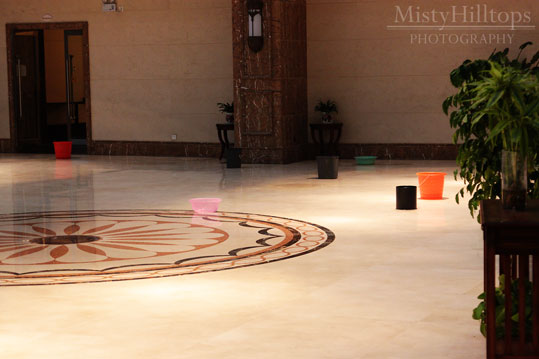 Well, it means 2 things. 1) That it's raining outside, and 2) that the leaks in the lobby roof are happily thriving!
Nun, es bedeutet zweierlei. 1) Dass es draussen regnet, und 2) dass die Löcher im Dach der Lobby ganz glücklich wachsen und gedeihen!
Now, instead of just a few buckets here and there, our lobby is littered with them, and instead of getting fixed, the number of them increases, which also means that  crossing of our lobby has become a great adventure, a struggle for survival so to speak, because you never know when you'll hit a wet spot that might take you down! But then, who likes to have a boring life when there's so much adventure to be had?
Nun, anstelle von ein paar Eimern hier und da, ist unsere Lobby übersät mit Behältern, und anstelle dass die Löcher repariert werden, werden es immer mehr, was auch bedeutet, dass das Durchqueren unserer Lobby zu einem großen Abenteuer geworden ist … weil man nie weiss ob man eine nasse Stelle erwischt, die einen niederstreckt! Aber dann wiederum, wer möchte schon ein langweiliges Leben haben, wenn man so viele Abenteuer erleben kann?