'T finally is the season, (which is why I'm getting a bit behind on blogging again lately – there's simply too much to do in one day). But that is no excuse, of course, as there's tons of stuff to talk and journal about. So here are this week's journaling prompts:
S'ist endlich soweit! Die Weihnachtszeit ist da (was auch der Grund ist, warum ich mal wieder mit dem Bloggen nicht hinterherkomme, es gibt einfach immer zuviel zu tun). Aber das ist natürlich keine Entschuldigung, denn es gibt ja eine Menge Dinge, über die wir nun reden und schreiben können. Hier sind also die Schreibideen für diese Woche:
Es ist die Zeit
Gibt es irgendwelche Traditionen, mit denen du die Weihnachtszeit beginnst?
Wie sieht deine Weihnachtsdeko dieses Jahr aus? Gibt's da was neues?
Gibt es etwas, das du unbedingt während der Weihnachtszeit tun möchtest? Warum?
Welche Aktivitäten stehen dieses Jahr während der Weihnachtszeit auf deinem Programm?
Wie ist dein 1. Dezember verlaufen? (Aktivitäten, Wetter, gab's was Besonderes?)
Of course, having gotten myself a couple new goodies during the huge Black Friday Sale (do I really need another Christmas kit?) – I had to scrap a page with it, and here's how that turned out:
Nachdem ich mir beim Black Friday Sonderverkauf ein paar Extras erlaubt habe (brauche ich wirklich noch mehr Weihnachtskits?) musste ich natürlich gleich eine Seite damit scrappen, und hier ist, was dabei herausgekommen ist: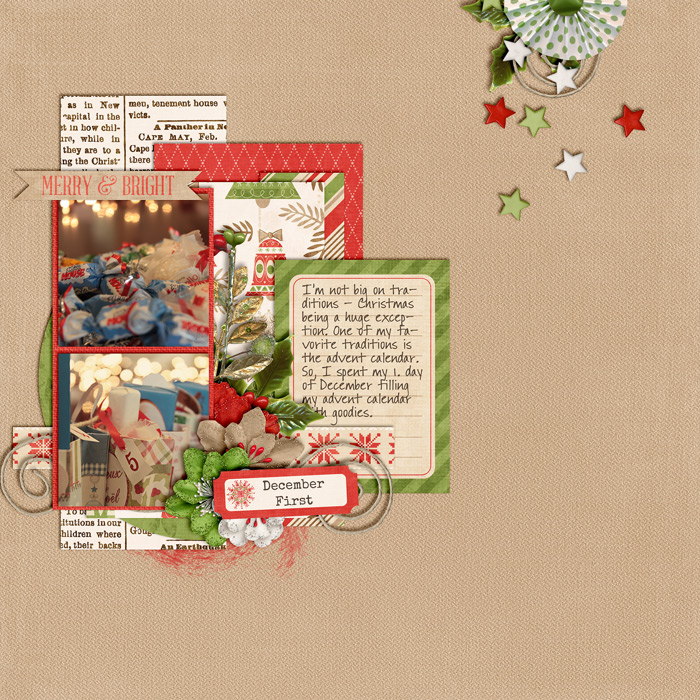 The font used for journaling prompts is DJB Squirrels in My Pants by Darcy Baldwin, available at sweetshoppedesigns.com.
Schriftart für die Schreibideen ist DJB Squirrels in My Pants by Darcy Baldwin, erhätlich bei sweetshoppedesigns.com.