Freebie Freitag: And I Promise 12×12 digitales Papier
Here's the promised paper pack that my sister and I worked on together this past winter to create a wedding planner for her friend. We printed the paper on A4 cardstock and then used a Silhouette Cameo to cut various elements to assemble planner. Some of the papers, my sister designed with a lot of love and time. It's just a paper pack, but maybe you'll be able to find some use for it anyway.
Hier ist das versprochene Papier, das meine Schwester und ich letzten Winter zusammen erstellt haben, um einen Hochzeitsplaner für ihre Freundin zu basteln. Wir haben das Papier auf A4 Papier ausgedruckt und dann mit der Cameo verschiedene Elemente ausgeschnitten, um den Planer zusammenzufügen. Einige der Papiere hat meine Schwester mit viel Liebe zum Detail entworfen. Es ist nur ein Papierpack, aber vielleicht könnt ihr dafür ja trotzdem Verwendung finden.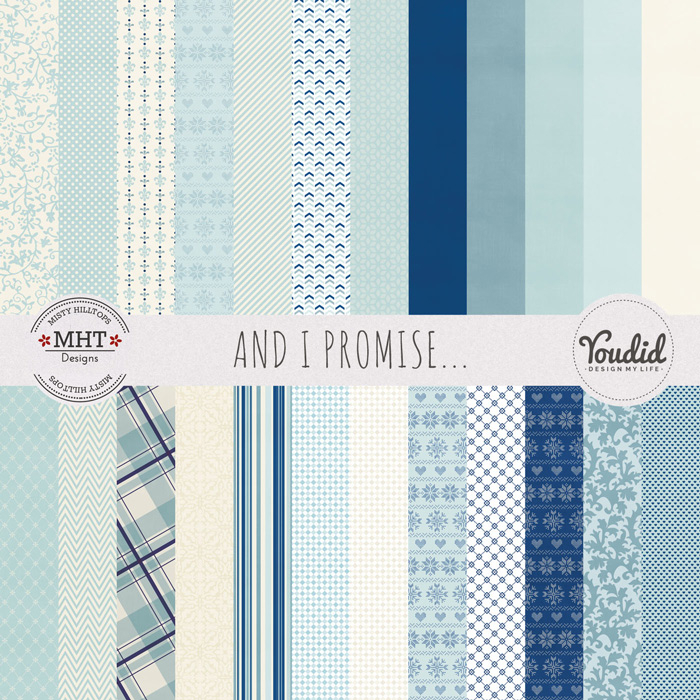 Before you download, please keep in mind my Terms of Use, which means any of my products are for personal use only. You're not permitted to share, redistribute, direct link, commercially or any other such ways use these products.
Bevor ihr euch ans Downloaden begebt, bedenkt bitte meine Nutzungsrechte. Das bedeutet, ihr dürft meine Produkte nur für euren persönlichen Gebrauch nutzen. Ihr dürft meine Produkte nicht mit anderen Teilen, sie weitergeben, direkt verlinken, kommerziell verwenden etc.
Download Scrapbooking Paper(219MB)
Now, if you've been waiting for a new kit of mine, I have good news. I already have one in the making (papers are almost done) and will be able to start sharing it with you before long. And for the very curious among you, I even have a little preview of what's coming …
Und nun, für diejenigen unter euch, die schon auf ein neues Kit von mir warten, habe ich gute Neuigkeiten. Ich habe schon wieder eines in der Mache (Papiere sind fast fertig) und werde es demnächst dann mit euch teilen. Und für diejenigen unter euch, die schon ganz neugierig sind, habe ich sogar schon eine kleine Vorschau auf das, was euch erwartet …