Schreibwerkstatt: September – Zeit des Wandels
Of course, I can't be sure about where you're from, but where I'm from, seasons are definitely changing. It's time, therefore, I guess, to start talking a little about autumn. Here are this week's journaling prompts.
Natürlich hab ich keine Ahnung, wo ihr alle herkommt, aber wo ich lebe, ist der Wandel der Jahreszeiten langsam spürbar. Also ist es an der Zeit, mal ein bisschen über den Herbst zu reden. Hier sind die Schreibideen für diese Woche.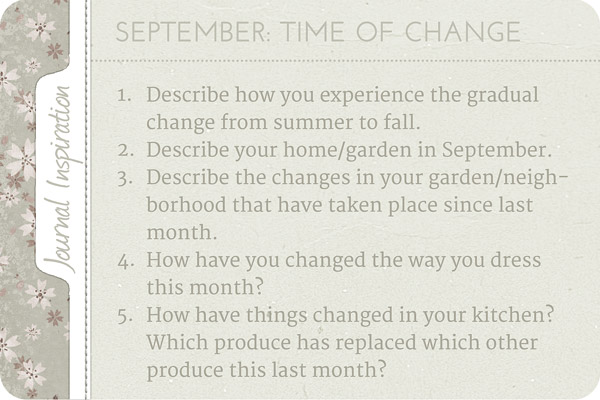 September – Zeit des Wandels
Beschreibe wie du den langsamen Wandel von Sommer zu Herbst erlebst.
Beschreibe dein Zuhause/Garten im September.
Beschreibe die Veränderungen in deinem Garten/deiner Nachbarschaft, die seit dem letzten Monat stattgefunden haben.
Wie hat sich die Kleidung, die du jetzt trägst, in diesem Monat verändert?
Was hat sich in deiner Küche geändert? Welche Obst- und Gemüsesorten haben welche anderen ersetzt?
And here's a layout I created based on one of the prompts:
Und hier ist ein Layout passend zu einem der Vorschläge: