Admitted – I love lists! My desk is strewn with them. Always! At the moment, I have about seven lists of various shapes and sizes cluttering my desk, in addition to all the other little notes and reminders I keep collecting. I have book lists (work/study related), lists with activities/games I'm planning to do with my students at some point, lists for grading, lists with scrapbook titles and page topics; there is even one list of my last sweet rewards purchase at the Sweetshoppe (I think I can discard that one now!), and the "list" goes on and on. Then there is my calender/notebook/timer that is brimming with lists. Now, if you want to know the content of my lists in my notebook, I won't even go there, because then there'd be no end to this post! Basically, anything from future scrapbook projects (sorted by topic/year/event), to title ideas, to topics for blog posts, to interesting quotes I find, to … you name it. It's there!
Yes, I'm a list lover, and that must reflect in my scrapbook layouts somehow! There are tons of lists that you can incorporate into your scrapbook pages. From ABC lists (I will post a separate article on that one in the future some time – it's on my list!), to Top 10 lists, to recounting any types of favorites – the possibilities of using lists are sheer endless.
Listing favorites is probably one of my personal favorite kind of lists, too! You can turn whatever you like into a list of favorites:
Favorite meals/foods
Favorite books/magazines, …
Favorite movies/TV shows
Favorite pastime activities
Favorite people
Favorite clothes
Favorite music/songs
Favorite Christmas/birthday presents
Favorite anything!
I also like lists, in which you state the highlights of the last month, or maybe highlights of the last vacation, or highlights of the last birthday-party, or highlights of … – need I go on? You can list goals, plans for the future, hopes, dreams … You can list daily activities, phrases that are typical for you or your loved ones, likes and dislikes, firsts or lasts.
Now, there are many different ways of how you can incorporate lists in our layouts. Let's look at some of my past layouts to give you an idea of how you can scrap a list of things.
You can create layouts with the simple good old  traditional list:
But you can also decide to loosen things up a bit, and choose a different design to scrap your lists:
I also love working with journaling spots when compiling my lists:
Some designers create templates, which are perfect to use for lists. Cindy Schneider (SSD) is one who offers quite a range of templates conducive to creating fun lists. Here is one page I created with one of her templates:
And before I call it a day, let me point you to a scrapper/template designer whose name pops into my head first, whenever I think about list-type layouts: It's Lynette aka Nettio Designs. Lynette is one of the most fabulous list creators I know of in digi-land and she's especially great with creating monthly favorites. On her blog, she also has a very fun article about "Why Every Scrapper Should Scrap a Fave's Page" that might be worth for you to check out.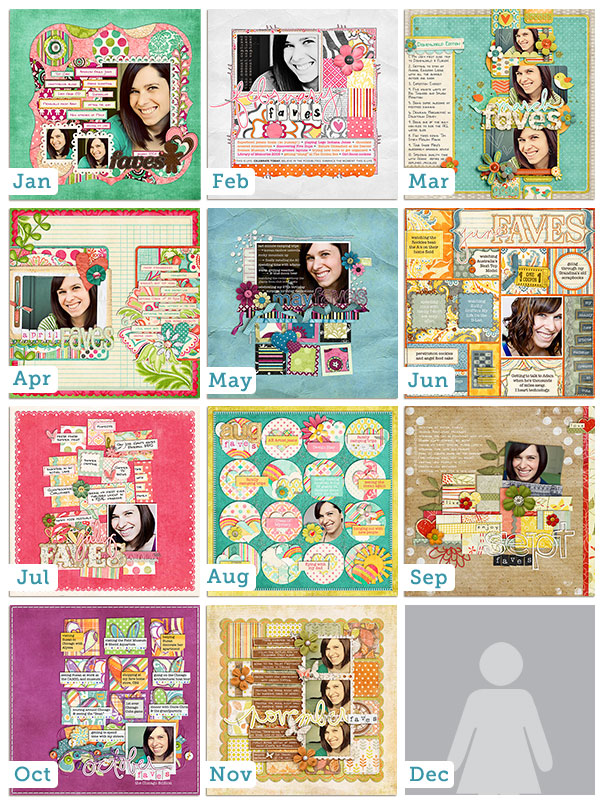 Anyhow, scrapping lists is easy, because there are so many ways of how you can incorporate them into your layouts, and I hope I was able to inspire you to scrap some lists of your own!