Christmas time is winter time. At least where I'm from. And who of us doesn't dream of a white Christmas? As many of us are moving into the cold season, we also get to scrap more of those chilly, frosty memories. So, I think it's the perfect time to talk a little bit about how to add a little bit of frosting to our pages. If you've seen some of my December Daily pages this year, you may have noticed that some of them come with a nice frosted feel to them. And if you've wondered how to create this effect, I can tell you: it's super simple.
Take a look at one of my early DD pages: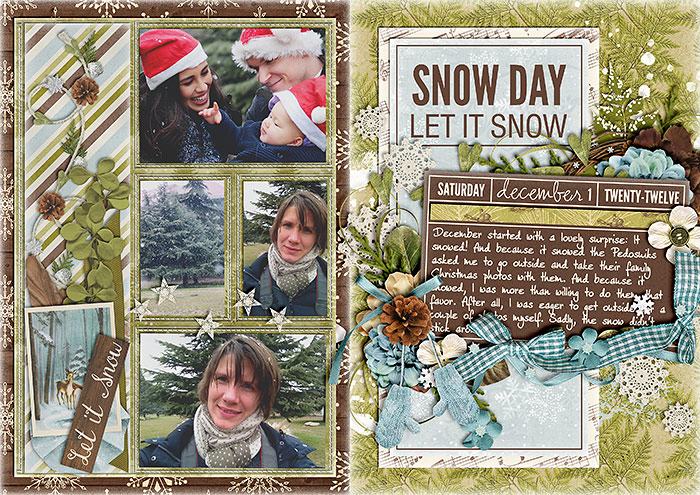 If you take a closer look, you'll notice that around the edges some of my papers seem to be frosted.
You can easily add your own frost layer by playing just a little with your style settings. (This technique can be applied to papers, elements, as well as text.)
Here's how it works …
Choose the paper or element to which you want to apply the style by selecting it in the layers panel.
Double click anywhere in an empty space of that layer (in the layers panel) to open the styles menu (or click on fx at the bottom of the layers panel to open the styles menu). In the window that will open, click on "Inner Glow" in the left-side column.
By default it should be set on Screen. Leave it at that.
Adjust the color to white, and play around with the following settings:
Noise
Size
Range
Jitter
(and select Anti-aliased)
Every element will turn out a little different, so just experiment with it a little until you get the desired look. Click ok. And that's it. You've quickly added some  frosting to your element. Repeat this with other elements/papers on your page, or simply right click on the layer you first adjusted, Copy Layer Style, select each layer you want to apply this style to, and then right-click and choose "Paste Layer Style." Check all the layers you've adjusted in this way and make adjustments where necessary.
Tip:
If you use predefined styles for your drop shadow (like I do), first apply the shadow style, and then add the frosted edge. It will save you the work of having to manually add all the drop shadows.