Hinter den Kulissen: Mit gemusterten Papieren arbeiten
Hey friends. After a long break I decided to start up my tutorial posts again. I've got a long list of things to talk about; now all I need is find the time to actually write up those tutorials.
Hallo Freunde. Nach einer langen Pause habe ich mich entschlossen, wieder damit anzufangen Scrapbook Anleitungen zu schreiben. Ich habe eine lange Liste von Dingen, über die ich sprechen möchte; jetzt muss ich nur noch die Zeit finden, diese Anleitungen zu schreiben.
Today I'd like to start simply by talking about patterned papers. While we love patterned papers (for me it's one of the things that got me hooked on scrapbooking), some of us – especially those white space scrappers among us – can get quite intimidated to use patterned papers on the background. If anything, because it can make a page look really busy and might detract from the focal point of the page. I especially struggle with the journaling part when working with patterned backgrounds – because on the background is usually where my journaling and title work goes. There are, however, a number of tips that can help you still make the most of your pattern papers.
Heute möchte ich einfach anfangen und über gemusterte Papiere sprechen. Während wir von Papieren mit hübschen Mustern und Motiven vielleicht angetan sind (für mich waren die Papiere einer der Gründe, warum ich mit dem Scrapbooking überhaupt angefangen habe), können solche gemusterten Papiere uns andererseits auch ganz schön einschüchtern. Und wenn es daran liegt, dass ein solches Papier im Hintergrund einer Seite das Layout zu geschäftig erscheinen lassen kann oder auch zu sehr vom Hauptmotiv der Seite ablenkt. Mir fällt es besonders schwer mit gemusterten Hintergrundpapieren zu arbeiten, wenn ich noch vorhabe etwas zu den Fotos zu schreiben oder einen Titel hinzufügen möchte. Es gibt allerdings ein paar Tipps, die uns helfen können, gemusterte Papiere auf beste Art zu nutzen.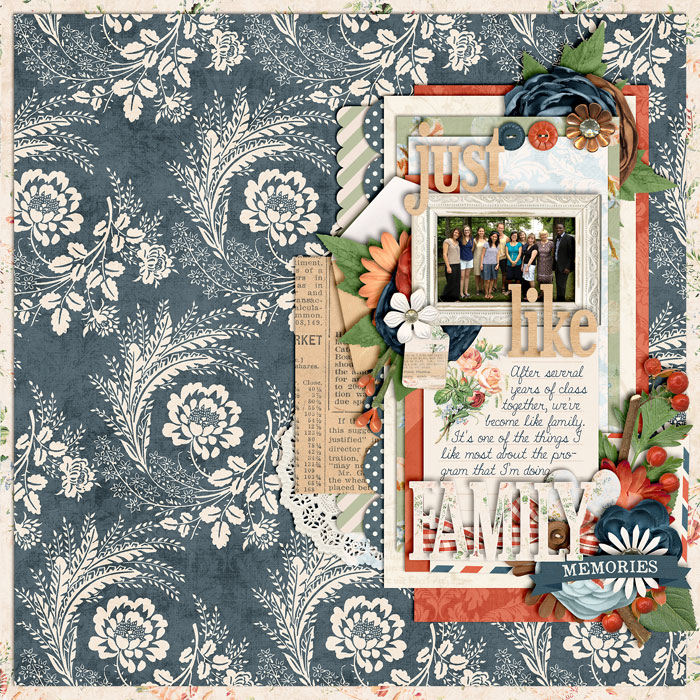 Tip 1 | Use Labels or Journaling Cards for Your Journaling
One great way to still draw attention to your journaling is when you use journaling cards or blank labels. With all the hype around PL these days, pretty much every kit comes with a couple of journaling cards. Blank labels have been included with kits for as long as I know digi-scrapping, and if anything, there's nothing easier than to create your own journaling cards (with the rectangle or ellipse tool and a solid paper clipped to it).
Tipp 1 | Verwende leere Etiketten und Schreibkarten für deine schriftlichen Aufzeichnungen
Eine gute Methode, um deine schriftlichen Aufzeichnungen nicht im Wirrwarr des Papiermusters untergehen zu lassen, ist die Verwendung von Etiketten oder Schreibkarten. Bei all dem Rummel um Projekt Leben in letzter Zeit, enthält fast jedes Kit ein paar Schreibkarten. Leere Etiketten sind schon bei Kits dabeigesessen seit ich das Digiscrapping kenne, und wenn's gar nicht anders geht, dann kannst du auch super einfach deine eigenen Schreibkarten erstellen (mit Hilfe des Rechteck oder Kreiswerkzeugs und dann ein einfarbiges Papier darüber legen).
Tip 2 | Layer Patterned Papers with Solid/Less Busy Patterned Papers
When using patterned papers for your background, another way to prevent a page from becoming too busy is by using solid colored papers in your paper clusters. They will break the busyness and help the patterned papers you end up using get more attention.
Tipp 2 | Kombiniere gemusterte mit einfarbigen Papieren
Wenn du ein stark gemustertes Papier für den Hintergrund verwendest, kannst du in einer weiteren Maßnahme verhindern, dass das Layout zu geschäftig wird, indem du einfarbige Papiere für verschiedene Lagen verwendest. Sie lockern das Gewusel auf dem Layout auf und helfen, dass die gemusterten Papiere mehr zur Geltung kommen.
Tip 3 | Use Brushes, Mists, and Paint on Patterned Background Paper
If you want to use more patterned papers (even in your paper clusters) a good way to set off the paper mats from your background paper is by adding brushed, painted or misted layers between background paper and mats. Adding paint etc. can also give you extra space for your journaling.
Tipp 3 | Verwende Photoshop Pinsel, Sprühfarben oder gestrichene Lagen auf gemustertem Papier
Wenn du auch im Hauptmotiv deines Layouts mehr gemusterte Papiere verwenden möchtest, kannst du die Papiere deiner Motive dadurch vom Hintergrund absetzen, indem du Photoshop Pinsel, Lagen von Sprühfarben oder eine Lage mit einem Anstrich verwendest. Künstlerische Farbakzente können dir auch extra Platz für deine schriftlichen Aufzeichnungen verschaffen.
Recent Examples/Weitere Beispiele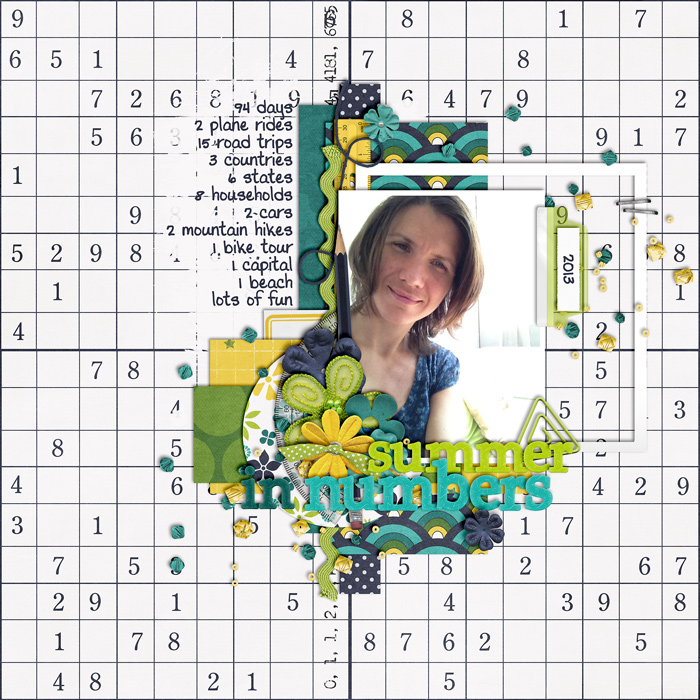 Painted layer behind journaling/Weisser Farbklecks hinter den schriftlichen Aufzeichnungen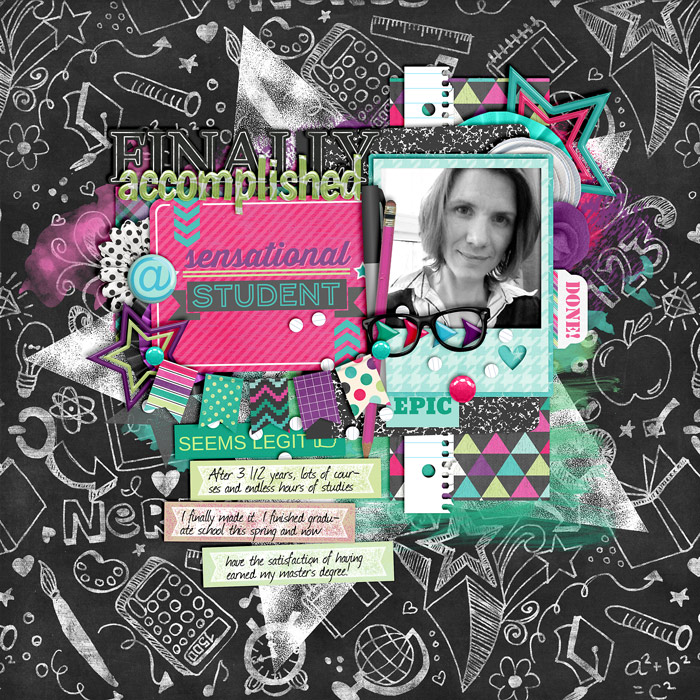 Colored paint behind main cluster/Farbkleckse hinter dem Hauptmotiv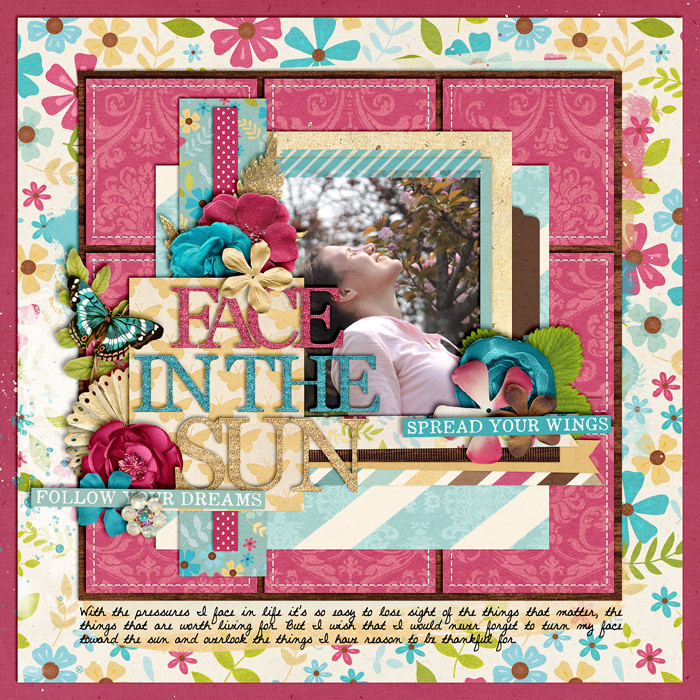 Combining patterned with solid papers/Mehr und weniger gemusterte Papiere kombinieren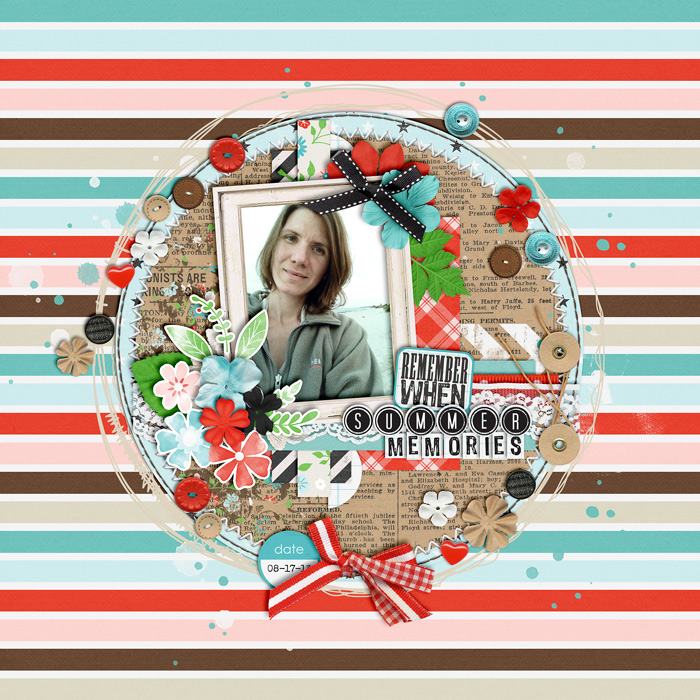 Striped background paper/Gestreiftes Hintergrundpapier
Patterned Papers which Look Great on a Background:
Plaids, stripes, chevrons, floral designs
Papiermuster, die sich gut als Hintergrund machen:
Karos, Streifen, Fischgrätenmuster und geblümte Designs