There are lots of ways how you can add dynamics to a page in order to make it visually interesting and captivating. One way of doing so is by placing things at an angle. Take a look at this page I created the other day with Libby's new kit "We The People":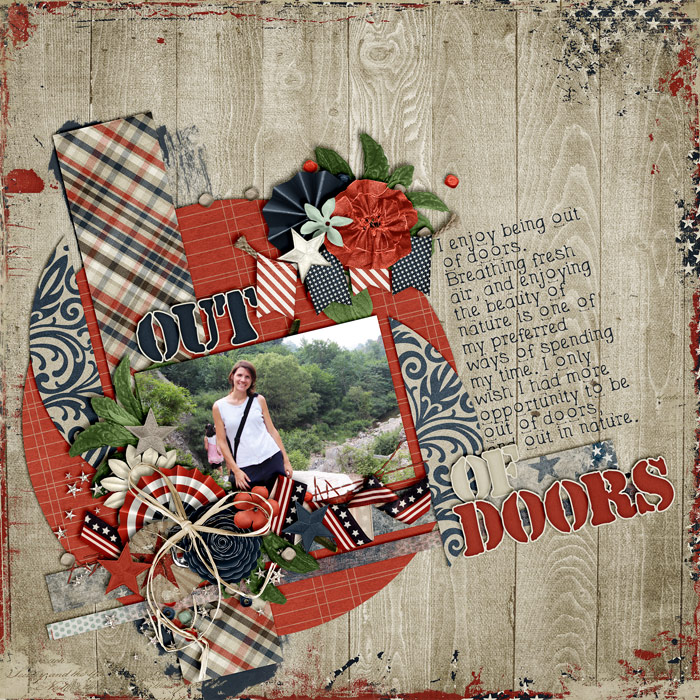 It would have just been another one of those circular layouts I've created lately, if it hadn't been for the angle. The angle is what creates tension on an otherwise pretty simple page layout and composition, which makes it visually interesting. All of a sudden, the page stands out from the rest, and that is because of the angle I added.
How to Add an Angle
Usually, I begin by just scrapping my page, adding paper layers and clusters, my photo(s), the title, and the journaling. If you wait with rotating everything to the very end, you save yourself a lot of guessing work and having to rotate everything individually. After creating your page, simply select all the layers you want to rotate in the Layers Panel, click command + T (or control + T), to edit those layers, go to one of the corners of your selection and rotate either way. Keep rotating until you're satisfied with the way things look. Of course, you can also add a specific angle by typing in a set value in the "Set Rotation" field in the top bar of your Photoshop screen.
Tip:
Even when you manually rotate your layers, keep an eye on the value in the "Set Rotation" field in the top bar of your screen and remember that value. That way, if you realize you need to add another element to your page afterward, you'll be able to rotate it exactly according to the angle of the rest of the elements on your page.
Try rotating your layouts more often and you'll see that there will be lots of added interest.
Tip:
You can also rotate clusters of templates  you use to change the look of things (and help you use your templates more than once in a versatile way). Who says you can only use templates one way?