Our hike continued today, and it continued with several encounters of the special kind: cows. Ever since our last trip to Switzerland, my friend and Canadian squirrel imitator had set his mind on wanting to milk a Swiss cow, of which you usually can find plenty in the Alps. (Prior to our tour he even researched on youtube how to do that!) And today, the opportunity finally presented itself. Twice, in fact.
The first time, however, my friend got sidetracked and went down exploring a riverbed, leaving me to watch our backpacks. So I used the opportunity to take some pictures.
But when I turned around to get a snack from my backpack, I suddenly found myself face to face with big ol' Miss cow-face.
'No big deal,' I thought, 'as long as she keeps her snotty nose out of my stuff …' But that wasn't the intention of Miss snotty cow-face, because as soon as I started chewing on my cracker, she set her mind on chewing just the same – leaving me to surrender to her all the other crackers I still had in my hand.
Long story short, in the end, I – let me add: the one who'd never had any intentions of milking any cow – found myself literally surrounded by four very (wet-nosed) nosy cows, with rather large horns of the dangerous-looking sort of kind, and no squirrel imitator/snow monster at my side to rescue me.
Second Attempt
Only a short time later, we came across this situation:
Again, my friend examined his targeted cow to see whether he could strike and get some milk from her. He'd prepared everything, and had already started petting her, when all of a sudden, another cow came to the aid of Mrs. Boss-Cow, pushing him aside in a rather non-lady-like manner. That's when he decided to give up and the moral of the story: no all-natural Swiss alpine cow milk for poor Canadian squirrel imitators!
And here's what happened the second day of our hike …
The Tour | Day 2: Gspaltenhornhütte to Kandersteg
After a rather rough night (sleeping dorm-style with lots of strangers in one room), we have a rather rustic breakfast, served by the hosts of our lodge.
We still receive a couple of tips from some other Swiss mountaineers, and soon afterward, we set out on another 9 hour hike.
We cross a rather deep gorge, and soon we reach lower terrain and alpine pastures again.
It's another day full of highlights. Every turn offers another grand view of the Alps, another breathtaking panorama. Soon, however, our trail turns arduous. For more than two hours the trail leads straight up a steep mountain slope.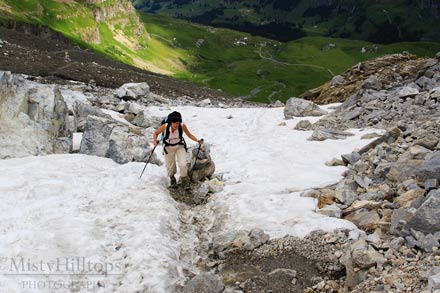 We're tired and out of breath, and I'm glad that the trail is secured with ropes; and where it's steepest, some stairs are anchored to the mountainside.
At the top of the mountain, however, we are rewarded with another amazing panorama.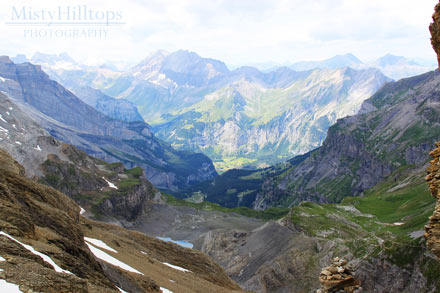 We've reached the highest point of our two-day hike, and here, at the foot of the final ascent to the mountain lodge Blüemlisalphütte, we take a good long break from our hike.
But it's cold and windy up here, so eventually we move on. The trail goes downhill from now on.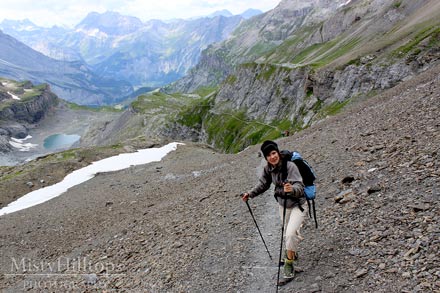 We pass the Blüemlisalp Glacier, and soon we are greeted by alpine pastures, and livestock grazing everywhere. The signpost already indicates that it only takes 1 h and 45 min. from here to Kandersteg, when a couple minutes later, the scene opens to another breathtaking view:
Quietly, and in deep blue, Lake Öschinen (Öschinensee) presents itself before our eyes. We are fascinated by how blue the water is, even right close to the shore. We're still pretty high above the lake, so for the next half hour, we need to climb down the steep rocky side of the mountain.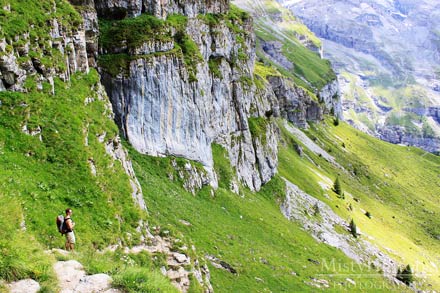 Once we reach the lake, the trail joins another road, and that's when we realize – we're back in civilization. The road takes us alongside the lake to its far end, and from here Kandersteg is just around the corner.
Half an hour later, we reach the town's boundaries, and within minutes we're at the train station, where the train takes us first to Brienz, and then back to Interlaken.
Now, we are two very tired, but very happy mountaineers. Grüezi mitenand!