Schreibstube: Neues Jahr, neuer Anfang
Well, the new year is almost a week old, and of course we can't ignore the fact that we started another round in my journaling café. So, here are today's prompts:
Nun, das neue Jahr ist jetzt schon fast eine Woche alt, und natürlich können wir diese Tatsache nicht in meiner Schreibstube ignorieren. Das sind also die Anregungen für heute:
Neues Jahr, neuer Anfang
Was ist neu für dich, diese Woche, diesen Monat, dieses Jahr?
Wie hat sich Silvester für dich dieses Jahr vom letzten Jahr unterschieden?
Hast du irgendwelche Ziele, die du für 2014 verfolgst?
Welcher Traum soll für dich 2014 in Erfüllung gehen?
Woran musst du 2014 arbeiten?
Αfter skipping last year, I went back to scrap one of my traditional new year's pages, this time incorporating several of the prompts:
Nachdem ich letztes Jahr ausgelassen habe, habe ich dieses Jahr mal wieder eine meiner traditionellen Neujahrsseiten gescrappt, auf der ich mehrere der Schreibvorschläge berücksichtigt habe: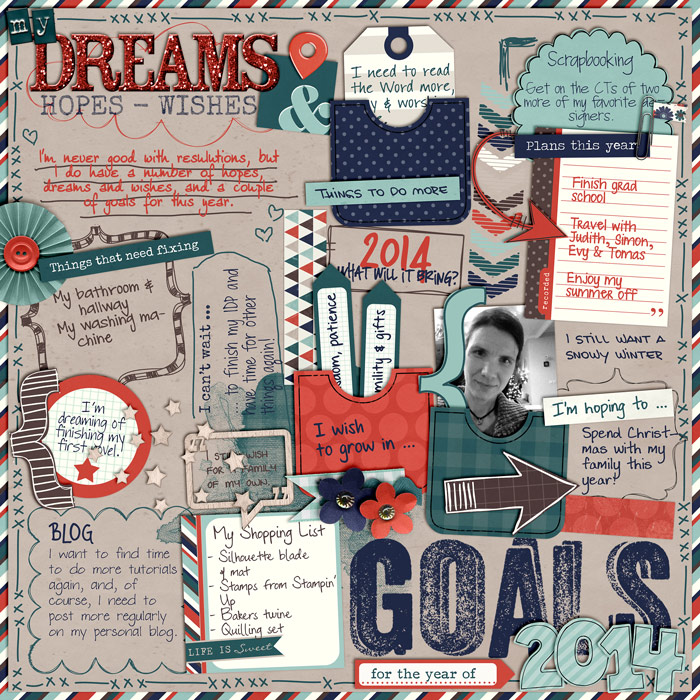 The font used for journaling prompts is DJB Squirrels in My Pants by Darcy Baldwin, available at sweetshoppedesigns.com.
Schriftart für die Schreibideen ist DJB Squirrels in My Pants by Darcy Baldwin, erhätlich bei sweetshoppedesigns.com.