Freebie Freitag: White & Gold Alphas
Finally, I get to share with you the alphas that I've been dangling before your noses for a long time already. These alphas is not just beautiful on Christmas layouts, but can be used on any layouts where you want to use a somewhat elegant title. You'll get two alphas that can be used individually, or combined together. Your choice. And as always, I'd be happy, if you show me what you're doing with these freebies. Just leave a link to your layout in the comments.
Endlich komme ich dazu, die Alphas mit euch zu teilen, die ich euch schon so lange vor die Nase gehalten habe. Diese Alphas machen sich nicht nur gut auf weihnachtlichen Layouts, sondern auf jedem anderen, für das ihr einen eleganten Titel braucht. Ihr bekommt zwei Alphas, die ihr alleine oder in Kombination verwenden könnt. Und natürlich freue ich mich immer, wenn ihr mir eure Layouts mit diesen Freebies zeigt. Einfach Link in den Kommentaren hinterlassen.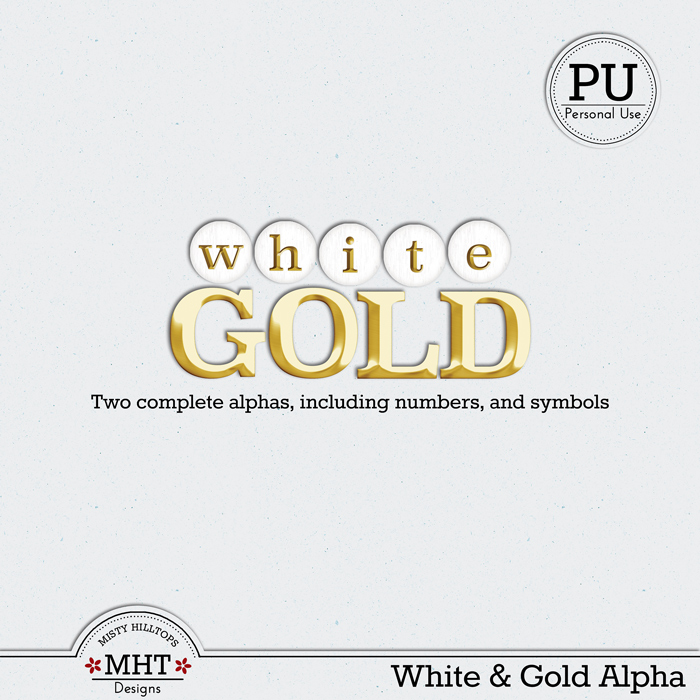 As always, I'd like to remind you to 
respect my Terms of Use
. This and any other of my freebie products are available for personal use only. You may not use it for commercial purposes. You may not re-distribute it, sell it, share it, or make available in any other way to anyone else. You may not direct link to the product on the mediafire website. If you want others to enjoy this product, please send them to this post or website. You are welcome to share about this post or website on Pinterest or via your blog and social media.
Wie immer möchte ich euch daran erinnern, 
meine Nutzungsbedingungen zu respektieren
. Dieses und jedes andere meiner Freebie Produkte steht euch nur für den persönlichen Gebrauch zur Verfügung. Ihr dürft es in keiner Weise kommerziell verwenden. Ihr dürft es nicht weitergeben, verkaufen, mit anderen teilen oder anderen in sonst irgendeiner Weise zur Verfügung stellen. Ihr dürft auch nicht die direkten Links zur Mediafire Webseite an andere weitergeben. Wenn ihr möchtet, dass andere in den Genuss dieses Produktes kommen, weist sie doch bitte auf diesen Artikel oder diese Webseite hin. Ihr dürft auch gerne über diesen Artikel oder diese Webseite auf Pinterest, eurem Blog oder euren Sozialen Medien posten.
DOWNLOAD