Schreibstube: Reise – Erste Eindrücke
Last week I told you that we'd be doing journaling inspiration on traveling for a little while longer. I actually still have quite a number of traveling related prompts, so if I don't get to do them all in the near future, there'll be more coming later on. For now, however, lets move on to this week's prompts:
Letzte Woche habe ich euch gesagt, dass wir für eine Weile Reisen in unserer Schreibstube behandeln werden. Ich habe sogar noch eine Menge von Schreibideen im Bezug auf Reisen und wenn wir in den nächsten Wochen nicht dazu kommen, alle zu posten, dann könnt ihr davon ausgehen, dass ich das Thema irgendwann später nochmal aufgreifen werde. Aber jetzt gehts erstmal zu den Ideen für diese Woche: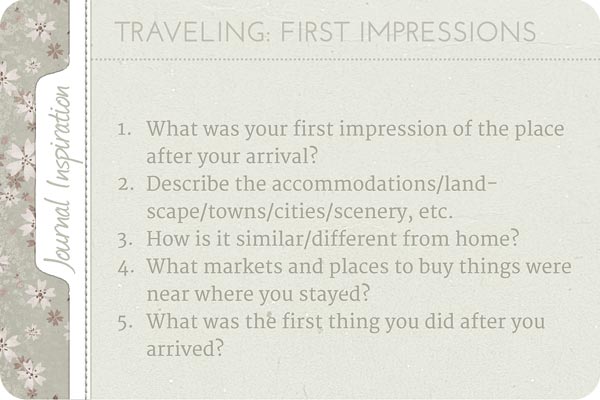 Reisen: Erste Eindrücke
Was war dein erster Eindruck von den Örtlichkeiten nach deiner Ankunft?
Beschreibe deine Unterbringung, die Landschaft, Städte, die Umgebung, etc.
Inwiefern ist es deiner Heimat gleich oder anders?
Welche Einkaufsmöglichkeiten hattet ihr dort wo ihr wart?
Was hast du nach deiner Ankunft als erstes getan?
And here's a layout I created based on one of the prompts:
Und hier ist ein Layout, dass ich aufgrund einer der Vorschläge erstellt habe: