Schreibwerkstatt: Das Beste und Schlimmste am Reisen
I have a number of miscellaneous prompts connected to traveling for this week. Some of the prompts are related to questions about the best and worst, but then it's also about something you've learned during one of your travels. Of course, you can relate all the prompts to your most recent traveling experiences, or you can use an older trip to write about. Here are the prompts:
Ich habe eine Reihe verschiedener Vorschläge diese Woche, die mit dem Reisen zu tun haben. Bei einigen der Vorschläge handelt es sich um die besten und schlimmsten Reiseerfahrungen, aber ihr könnt auch darüber schreiben, was ihr während eurer Reise gelernt habt. Natürlich könnt ihr alle Vorschläge auf eine eurer letzten Reisen beziehen, oder ihr könnt auch über eine Reise schreiben, die schon länger her ist. Hier sind jedenfalls die Vorschläge: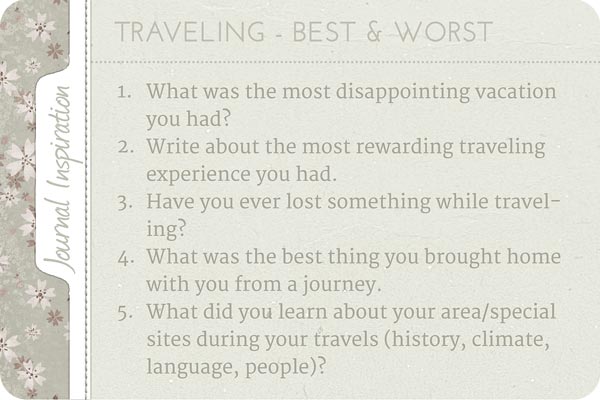 Die Besten und Schlimmsten Reiseerfahrungen
Welcher Urlaub hat dich am meisten enttäuscht?
Schreibe über deine lohnenswerteste Reiseerfahrung.
Hast du jemals etwas während einer Reise verloren?
Was ist das beste Mitbringsel, das du je von einer Reise mitgebracht hast?
Was hast du über dein Reiseziel, die Sehenswürdigkeiten, etc. gelernt während deiner Reise (Geschichte, Klima, Sprache, Leute, …)?
And as always a layout connected to one of the prompts.
Und wie immer auch ein Layout, das sich auf einen der Vorschläge bezieht.