Schreibwerkstatt: Herbst im Garten
Hi writer friends. I got a new set of journaling prompts ready for you. This time it's all about your garden in autumn. And if you think that doesn't apply to you because you don't have a garden, or you don't have autumn, or both, then write about that. As you can see with my sample layout, I talked all about how I don't actually have a garden to start with. But for now, here are the prompts for the gardeners among us:
Hallo Schreibfreunde. Ich habe mal wieder ein paar neue Schreibideen für euch. Diesmal geht es um euren Garten im Herbst. Und wenn ihr denkt, dass passt bei euch nicht ganz, weil ihr entweder keinen Garten habt, oder keinen Herbst, oder beides nicht, dann schreibt doch einfach darüber. Wie ihr an meinem Beispiellayout seht, habe ich darüber gesprochen, dass ich keinen Garten habe. Aber für die Gärtner unter uns, hier sind die Vorschläge: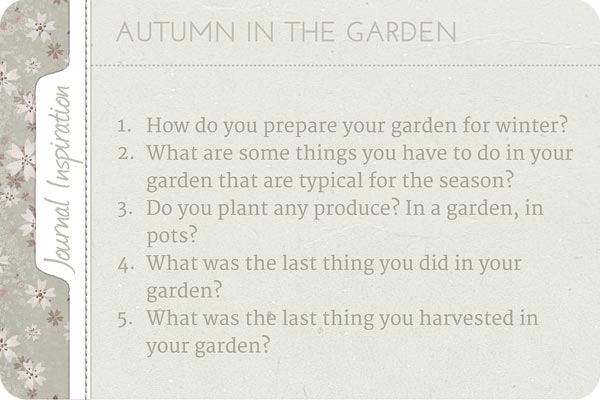 Herbst im Garten
Wie bereitest du deinen Garten auf den Winter vor?
Welche Dinge erledigst du zur Zeit im Garten, die typisch für die Jahreszeit sind?
Pflanzt du Obst/Gemüse? Im Garten oder in Töpfen?
Was hast du als letztes in deinem Garten gemacht?
Was hast du als letztes in deinem Garten geerntet?
And here is the sample layout:
Und hier ist ein passendes Layout: