The holiday season is upon us, and that means some of us are busy busy making cards to send to loved ones and friends. I at least have made it a priority again this year, to create more handcrafted cards, after I failed at it miserably last year. And since I'm someone who tends to get bored with repetition, I'm always looking for new ideas that I can incorporate in my own card making. The www is a great source of inspiration, and over the last couple of weeks, I've been able to dig up some treasure or other to inspire one of my own cards. Being a person with both limited time and limited resources, however (craft stores where I live are not what craft stores are in Northern Europe or North Amereica), I have a few guidelines to govern the choice of projects I create:
They have to be simple in design,
and they have to be with materials I have at hand (printer, paper & maybe a ribbon).
A very fun way to create  simple cards with a great wow effect, is to use paper piecing patterns. There are tons of patterns and templates on the web which you can download for free, and all you need to do is turn them into clipping masks for your digital scrapbooking papers.
Generally, the patterns which I find work best are those that come with simple black lines, such as this holly leaf pattern you can find at silkysteps.com:
Once I've found a pattern, and downloaded it, I open it in photoshop and using the Magic Wand Tool, I click inside the lines of the image (e.g. the leaf). From there I can either copy the shape and paste it directly onto my canvas to use as a clipping mask, or I can still tweak the selection (marching ants) a little. (Using the directly pasted shape often comes with jagged edges, etc. So in that case before I copy and paste, on the original pattern, after creating my selection, I go to Select > Refine Mask, and apply the Smooth option – playing around with the settings will help you decide what looks best.) I also like to expand the selection by 1-2 pixels to include the outline. Often I create a new layer and fill the selection with a solid color before I drag the new shape layer onto my canvas. Having a solid colored clipping mask usually gives me better options in case I want to play with styles and blending.
Whichever way I go about this, usually paper piecing patterns have helped me create some fun elements that I can add to cards and my digital scrapbook pages.
Tip:
High resolution images work best for clipping.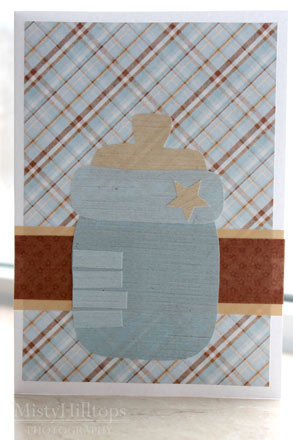 This card was created using a paper piecing pattern from scrapbooksetc.com, extracting it from the pdf and using the shapes as clipping masks to clip papers from a digital scrapbook kit to it. I printed everything, cut, and put everything together – quick and easy.