The day starts with the most glorious morning.
We're leaving Eilat today, and moving north again. The desert town of Mitzpe Ramon is our destination. It's famed for two things: the Ramon Crater, a huge natural landmark with lunar-like landscapes and breathtaking views; and the Ilan Ramon Museum.
Der Tag beginnt mit dem herrlichsten Wetter.
Heute verlassen wir Eilat, und fahren nordwärts. Die Wüstenstadt Mitzpe Ramon ist unser Ziel. Sie ist für zwei Dinge berühmt: Den Ramon Krater, eine riesige natürliche Landschaftsformation, die mit ihren mondähnlichen Charakteristiken atemberaubend schön ist; und das Ilan Ramon Museum.
Ilan Ramon Museum
The museum is about the first Israeli astronaut who perished in the fatal Columbia mission. The museum has various parts depicting the life work of Ramon and also explaining the origins of the Ramon Crater.
Das Museum behandelt das Leben und Werk des ersten israelischen Astronauten, der bei der Columbia Katastrophe ums Leben kam. Ein weiterer Teil des Museums erklärt und befasst sich mit der Entstehung des Kraters.
We also visit a little animal rescue station, in which local desert animals are taken care of. The entrance fee for this, once again is included in our Israel Pass.
Wir besuchen auch eine kleine Tierschutzstation, in der lokale Wüstentiere wieder hochgepäppelt werden. Der Eintritt dafür ist mal wieder in unserem Israelpass enthalten.
Ramon Crater
We're spending the night in Ramon, and our AirBnB host recommends we return to the nearby crater to watch the sunset.
Neither words, nor the pictures can do justice to the views and beauty of this landscape.
We can tell that we've left the hot climate of Eilat, because here in the desert the day turns rather chilly again.
Die Nacht verbringen wir hier in Ramon, und unser AirBnB Gastgeber empfiehlt, dass wir zum Sonnenuntergang wieder an den nahegelegenen Krater zurückkehren, um das Tagesende von hier mitzuerleben. Der Anblick und die Schönheit der Landschaft lässt sich leider weder in Worten, noch Fotos wirklich wiedergeben.
Klar steht, dass wir das warme Klima von Eilat hinter uns gelassen haben. Hier in der Wüste ist der Tag ganz schön kalt.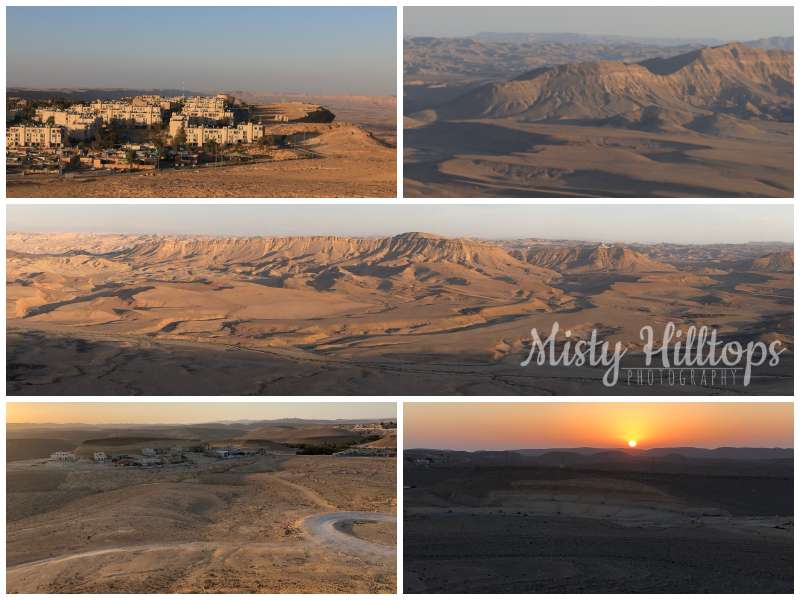 After sunset, we join the town's festivities for Israel's National Holiday which started today.
Nach Sonnenuntergang schließen wir uns den Feierlichkeiten der Stadt an, denn der Nationalfeiertag ist angebrochen.